📦️
Grow a Pet!
Give us feedback on the new event
HERE!
📱
What's your Pet Rescue game view?
Share your pic and claim a badge
HERE!
🐕️
Puppy Challenge!
50 Gold Bars to win
HERE!
🐈️🐕️🚩 Furry & Purry in Pet Rescue Community!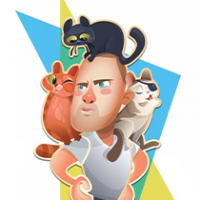 Crazy Cat Lad
Posts: 14,139
Community Manager
What's new and what's trending in Pet Rescue Saga Community?
Here you can find all furry and purry topics right now!
Newbie in the Community? Check our Welcome page HERE.
Sign up on our tagging list so you won't miss any news or petacular events HERE.
Introduce yourself HERE.
Level releases! Find out how many levels are available on your device HERE.
Grow a Pet! New feature and event in the game. Find more details and how to play HERE and give us feedback HERE!
Guess the puppy weight and win 50 Gold Bars HERE.
Show your Rescue skills and claim all level badges HERE.
Find all contests to win Gold Bars and more to your game HERE.
How do you feel about the new pets in the game? Vote and comment HERE.
What's your Pet Rescue game view? Share your pic and claim a badge HERE!
Meet our Kingster: NikBir! Find more about the people behind the game HERE!
Pet Playlist. Post a song with a pet or an animal in the song title HERE.
Blocked on a tricky level? Find tutorial videos by @Lynette HERE.
Tips, Tricks & Tutorials by @Lynette. Help and tips on game features and blockers HERE.
Need more level help? Then post your question HERE and other rescuers around the world will help you out.
Did you have a purchase issue in the game? Find help to get a refund or compensation HERE!
Did you lose your progress and lost all levels? Check HERE how to get your game back.
Find most common issues and FAQ:s in Help Center HERE.
How to find your Game ID? Check how HERE.
🐈️

New to the Community? Register HERE in just 2 seconds.