🎨 New in the Hub: The Art Nook!
Share your King Fanart!
☀️ Introducing the King Accessibility Heroes! Check it out
HERE
🌶 News & Hot topics
HERE
! // 🎀 Discover all King games
HERE
!
Candy Crush Saga Fan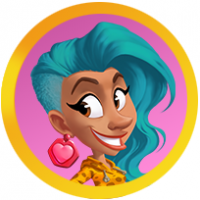 LyndallD
Posts: 54
Level 2
I have only been playing Candy Crush Saga for a few months now but already am up to level 777. I have won my fair share of races and am currently sitting in 1st place in Space Race with 6010pts. Took me a while to figure out how to play the game and on some levels I didn't know what I was doing. Slowly getting it all figured out and having fun. When I first started I was paired with a guy in F5 and we always trounced the 7000 pts. Suddenly he disappeared and I joined a team but those players hardly contributed any points. So now I have created my own team "need4more" and am hoping people will join me @LyndallD . Forever hopeful and quite addicted.