🥳 Celebrate Level 3000 and get an Exclusive badge!
HERE
✨
(FINISHED) Tell us your Cat type and Win Gold Bars!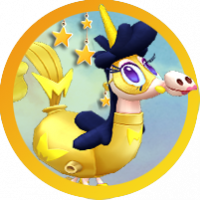 LadyRaffie
Posts: 2,641
Community Manager
If you don't have a Community account yet, no worries, sign up right 
here
 to participate!
🔮 
Hello dear Witches and Wizards!
As you know Stella's story is full of magic, spells and.. cats! 
While her cat Violet helps her defeat the malicious Morgana in Bubble Witch 2, her other cat Nero helps her with the fat lacy cat called Wilbur 
All three of them are different Cat Breeds... Violet is a Van cat, Nero is a Bombay Cat and Wilbur.. well he is an Exotic Shorthair cat
And I was wondering... if you were a cat, which Breed would you be? 

🔮 

Here below you have a table with all the levels and its correspondence in cats.
Look at what level you are in your Bubble Witch game and next to it you will know which Cat Breed you are! 

To give you an example: in my
BW3 game I'm at level 2121therefore I'm a Van Cat like Violet!
in
BW2 game I'm at level 3170 so that means I'm also a Norweigian Forest
! 
Which one is yours? Is it the lovely Scottish Fold? or the naughty Siamese? Maybe the purrific Persian?
😸😸
Let us know your Cat Breed by commenting below!
10 lucky winners will be picked randomly and receive 20 Gold Bars each! .. not bad, huh?!
😸

You have until Wednesday 28th of January, 1pm CET to participate! You can read the Terms and Conditions here.

and remember....
May the Magic be with you 
🥤 Celebrate
Beverage Day
!🍺 
HERE
 I  💌 Celebrate Mother's Day! 
HERE
🚀
Star Wars
Badge! 
HERE
This discussion has been closed.