🔮ENDED Badges, Gold and boosters in the bunny hopping race 🐇🍫ENDED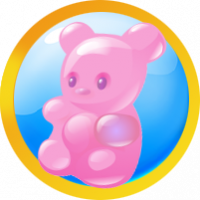 Hi to all our BW3 Kings🤴and queens 👸
The race is back. Are you ready ❓
We have a super delicious chocolate holiday approaching 🐣🍫and the kingdom's very own bunnies 🐇🐇 are busy hiding chocolate eggs. Stella has also asked them to hide some amazing rewards for you.
Wilbur has got word of the activity and is up to mischief as usual by hiding in wait to follow the kingdoms bunnies and steal all the chocolate🍫 🙈
Here is how the race works...
Play any level and post your screenshot. You can replay levels and post them as long as you show a different score. This is not a highest score contest so it doesn't matter how many points you achieve.
What are the rewards
Everyone who posts 5 or more screenshots showing different scores will get this one off "Thanks for hopping by" badge showing stella with her bunnies and a basket of rewards for you 😀
The top 10 automatically qualify for 20 gold bars and 3 rainbow rush
Also 10 of You will also be chosen at random to win 20 gold bars and a further 10 will win 3 rainbow rush boosters
The top 5 bunnies will automatically receive 70 gold bars plus 4 rainbow rush spells.
Now for those of you who believe there bunny 🐇 can hop through the levels on there way to hide the gifts and reach the top 15 finishing line will also get this second very exclusive badge of your very own "fastest bunny
How cute your bunny is sitting down from exhaustion but looking very happy to have won
You have untill Thursday the 21st of April to keep playing and posting
Good luck guys👏💓
The bunny🐇 race is on
🔮Want to participate but have no account, register here in just 1 minute 🔮
Terms & Conditions here.
Comments