🏅Badges! Join the Weekly Race
HERE
and share your scrapbook
HERE
🍩 Friends Battle Royale! Vote now
HERE
🌈New in the Community? Say Hi
HERE
🦝 Rachel's back in town! Tell the studio what you think
HERE
💰 Guess which is our sweet raccoon's art style and win Gold
HERE
🌴 It's ON! Join our
Weekend Challenge HERE
Tiffi loves her friends - meet Jean-Luc!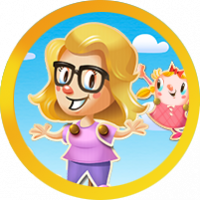 Elsa
Posts: 31,496
Community Hub Moderator
Many years ago ………….

Tiffi accidentally fell into the Candy Kingdom and brought chaos into Mr. Toffee's orderly world.  He became her adopted father and has been the beloved mayor of Candy Town for as long as anyone can remember. His unmatched passion for Candy matching means he has little tolerance for chaos and inefficiency.   And thus began the story behind Candy Crush Saga. 

Many, many years later, after being in the Candy Kingdom, she has become such a mischievous ball of enthusiasm. Although she eventually wants to get home, she's happy to stick around for adventure, exploration, and, of course, Candy!  

And so, Candy Crush Friends Saga begins..................

Her new adventure takes her back to  Candy Town where she will meet up with some of her old friends, and some are new. 

Meet Jean-Luc!  He makes a few appearances in Candy Crush Saga.  He meets up with Tiffi in Eggnog Emporium and he is upset because his jaw is broken.  Tiffi to the rescue!  She fixes his jaw with some sugarplum magic.  He reappears in the Precious Pond episode. However, his clothes are pink instead of blue.  When he is next seen in the Kooky Kingdom episode, his hat got torn during the play, and Tiffi fixes it with her candy sewing kit.  He loves to spread joy via the rooftops, but one house has no chimney to stuff presents in.  So, once again he needs Tiffi's help.  She  whips up a chocolate chimney to plant on the empty roof.  He reappears a couple more times in the game but then he's gone until he reappears in Candy Crush Friends Saga.
His name has now been changed to the Nutcracker.  He wants you to know that he was a member of a Christmas toy set before he fell into the Candy Kingdom. He believes he's been taken prisoner in this strange world, but since he met Tiffi, he's not so sure he wants to go back home. The Nutcracker loves to toot on his trumpet.
Match 10 blue Candies, and he'll play a few notes just for you! When he does, his sweet tune can attack up to 5 blockers in a horizontal line. He even deals double damage to Caramel Cups!  However, if there are no caramel cups on the board, he will remove up to 5 random candies especially the upper part of the board.
_____________________________________________________________________________________
Would you like to learn read some trivia about Tiffi and her friends?
Click on any of the names below to learn more about them.
Tiffi     Jean-Luc    Odus     Bubblegum Troll    Misty    Olivia    Mr. Yeti    Red Rabbit    Dachs
_____________________________________________________________________________________


🌈_________________________________ 🌈_____________________________ 🌈
Leave a Comment