🏅Badges! Join the Weekly Race
HERE
and share your scrapbook
HERE
🍩 Friends Battle Royale! Vote now
HERE
🌈New in the Community? Say Hi
HERE
🦝 Rachel's back in town! Tell the studio what you think
HERE
💰 Guess which is our sweet raccoon's art style and win Gold
HERE
🌴 It's ON! Join our
Weekend Challenge HERE
Who can help Tiffi solve this problem?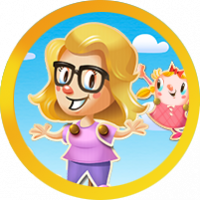 Elsa
Posts: 31,496
Community Hub Moderator
"I've got an idea," says Tiffi with excitement.  "How about I contact Giggles.  When I met with him at Crumbly Crossing I got the impression that he wants to spread love and cheer.  Wait, that won't work because when I saw him he had made too many sweet treats to carry.  Then I ended up jumping right in and we had a food fight.  No, forget about him!"
Just then, she saw Nutcracker approaching them.  He used to be called Jean-Luc when he first appeared in the Eggnog Emporium episode.  He fell in to the Candy Kingdom one Christmas Eve as a regular toy soldier, but was quickly turned to life by the imagination, love, and magic that characterises the Kingdom.  Ever since, he has been in an everlasting Christmassy kind of mood!
He is 8 years old and he's an optimist and charming.  Much like Tiffi, Jean-Luc loves helping others, and he does so with great finesse – as long as he's helping with either cracking nuts or wrapping presents. Jean-Luc has had a huge crush on Tiffi since she helped him right after his fall from Earth.  He was a bit broken and she fixed him right up! He is a real romantic and will cry to any love song, as they're all "so relatable". 
"Tiffi, my love," Nutcracker says.  "when did you move back here? Why didn't you call me?  Let's get together and I can hug you and kiss you.  *smooch*"
"Oh no," says Tiffi.  "I didn't want to see him today when my friend Red Rabbit needs my help so much."
"I just got back into town Nutcracker," Tiffi says.  "I will have to meet up with you another time because Red Rabbit really wants my help right now."
And off goes Nutcracker dragging his feet.  He hopes that she will call him soon so they can get together.  Now what can Tiffi do?  Who can she call?  Let's find out here.
If you arrived here, you might want to start at the beginning .....    


🌈_________________________________ 🌈_____________________________ 🌈
Leave a Comment