🏅Badges! Join the Weekly Race
HERE
and share your scrapbook
HERE
🍩 Friends Battle Royale! Vote now
HERE
🌈New in the Community? Say Hi
HERE
🦝 Rachel's back in town! Tell the studio what you think
HERE
💰 Guess which is our sweet raccoon's art style and win Gold
HERE
🌴 It's ON! Join our
Weekend Challenge HERE
Tiffi arrives home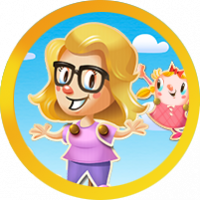 Elsa
Posts: 31,496
Community Hub Moderator
"Hi Dad, I'm home," she says.  Since Mr. Toffee likes order, he tells Tiffi to put away her things in her bedroom.
Mr. Toffee is 56 years old and is 11' 4" tall.  He is a very proud, knowledgeable and solution focused character.   He dislikes new people, disorder and change.   He is easy going and kind, but also extremely knowledgeable when it comes to everything candy. He has been running his Candy Shop in Candy Town for as long as most can remember, and if you're ever in need of advice he'll happily point you in the right direction (quite literally).  He found Tiffi and Kimmy in a big bag of candy on his doorstep one magical morning - since that day he has been raising the two girls as his own, teaching them about the Candy Kingdom. 

His mother runs the Candy Factory, but he does not agree with the mass production a factory entails, so they are not on very good terms these days. The Candy Shop is his passion, but he also very much enjoys tailoring and creates most of his clothes himself!


"Dad, I unpacked my clothes and put them away, " she says.  "I need to go speak to Yeti because I need his help.  Red Rabbit is feeling very sad and I want to see if I can find a way to cheer him up.  Maybe Yeti, will go with me when I meet up with him.  Let's go visit with Yeti here.
If you arrived here, you might want to start at the beginning .....    


🌈_________________________________ 🌈_____________________________ 🌈
Leave a Comment