Meet our new Friend, Rachel!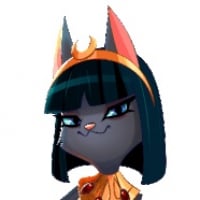 QueenMia
Posts: 12,986
Community Manager
After hearing a 
strange voice
 and seeing a 
mysterious shadow
, Tiffi, Yeti & Co, found themselves face-to-face with another Friend who just landed in the Kingdom...
Meet Rachel
! 
Rachel is a Racoon like no other, born and raised in Paris. She's an artist and if you tell her you're a fan of her work, she'll likely reply "of course, darling!" It's not that she's conceited (well, maybe a little), she's just an artist in the fullest sense: emotional, impulsive and expressive.
Rachel got into the Kingdom through her painting! That's true! She was working on her latest sketch "Paris in Macaroon" and as she leaned over to put the finishing touches on her piece of art, she got sucked into the sketch. Now she must escape her painting so that she can finish her masterpiece.
She will be joining the game very soon... You just need to be a bit more patient but in the meantime, can you guess what her power will be?
SWEET 🍒