A New Coat of Color – Rainbow Unicorn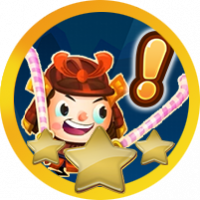 Elsa
Posts: 28,195
Superstar
'Many of the things which unicorns represent have not changed throughout history.
They are still considered fleet-footed, springy creatures that show themselves only to innocent, pure people. Their coats have remained pure white, occasionally with silver overtones. They continue to delight people of all ages, picking their way through the fringes of foliage of mythical worlds.
Now, though, unicorns are taking on new colors. They are increasingly seen with rainbow manes, rainbow tails, or even pooping rainbows! The original connection with rainbows may simply have been that both represent joy and beauty.
It may also have something to do with the elusive nature of unicorns and rainbows, and the idea that unicorns can travel to other worlds. The "end of the rainbow" has always been a mythical place, so perhaps this aided the connection.
Unicorns Rule suggests that unicorns pooping or farting rainbows have become popular because the juxtaposition of a pure magical creature doing something, so every day is surreal and amusing. You might not want to find a unicorn in your garden if this image were true to reality, though! However, there are many fun questions these days around unicorn poop, starting from how it looks like and how it smells?' (Info here)
It's time to shut down the computer! Tomorrow morning before heading out to help the players Tiffi is going to contact Misty to share the information that she found online.
"Maybe, I should plan a get-together," thinks Tiffi. "It could be cool to honour Misty because she really is magical!"
To be continued …………………
Start at the beginning - Do NOT call her a horse!

"Mother of Superstars. Relentless and passionate like no one else."

❤️ ❤️ ❤️ ❤️

Leave a Comment