Sharing more memories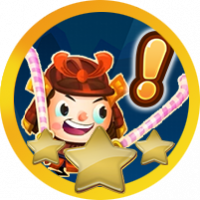 Elsa
Posts: 28,112
Superstar
"Tiffi do you remember our Peppermint Party?" Misty questions. "We all got together for New Year's Eve and we were counting down to the new year. I remember how frightened I was when I saw that candy corn floating in Custard Coast. It looked like a shark's fin. You grabbed the candy corn to prove to me that it was just candy. How about the time when I wanted to be the sweetest star in the Candy Kingdom, and you joined the performance to make sure that I shined? Those were some fun times."
Tiffi remembers all those times. She reminds Misty about the time that she was swimming near the waterfall. The best memory that Tiffi recalls is the time when she bumped into Cherry Baroness at Polka Park. Her hair was stuck with bubblegum. She used the scissors to cut her hair and gave her a new hairstyle.
Those were the days!
Let's continue to the next part – Misty remembers Soda World
Start at the beginning - Do NOT call her a horse!

"Mother of Superstars. Relentless and passionate like no one else."

❤️ ❤️ ❤️ ❤️

This discussion has been closed.