🦝 Rachel's back in town! Tell the studio what you think
HERE
💰 Guess which is our sweet raccoon's art style and win Gold
HERE
🌴 It's ON! Join our
Weekend Challenge HERE
(ENDED) Win 30 Gold bars with the Hazelnut Crunch! 🍫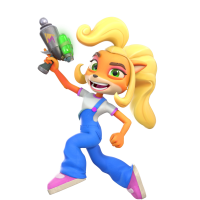 QueenMia
Posts: 12,472
Community Manager
🌟 No account yet? Register here in just 2 seconds 🍭
Dear Community,
We announced it a while ago and even gave you the opportunity to name it! You guys came up with the amazing name of Hazelnut Crunch. It's now time to welcome it to the Candy World... Ready for the Crunch?!
👉 Hazelnut Crunch is a new type of blocker discovered in the chocolate mousse clouds high above the Candy Kingdom. Fly to Chocolate Heaven, go nuts and munch away at the 10 Hazelnut Crunch levels for sweet rewards!
But that's not all! Here in the Community, we give you a chance to win some extra Gold. That's right! 5 lucky winners will be randomly picked and receive 30 Gold bars each 🤩
🌟How to win?
Simply share with us your best screenshots of you progress or success in the Hazelnut Crunch event for a chance to win!
👇Add your screenshots in a comment below 👇
And don't hesitate the share as many successes as you want! The more the merrier and the more chances to win!
🌟What do you win?!
5 lucky winners will be picked randomly and receive 30 Gold bars each 🌱
The winners will be announced on the 15th of June. 
👉Also, please help us make the game even sweeter for you and let us know all you think about the Event HERE! 
🌟Grab your beautiful Hazelnut Crunch Wallpaper HERE 🌸
Good luck everyone and have the sweetest day 🍒
Terms and Conditions here.
No account yet?
Sign up here i
n 2 seconds!
Leave a Comment