What about adding Ruby, Montie or Misty✨ we need some lovely cats 😸😻😼 in this world of sweets 🍬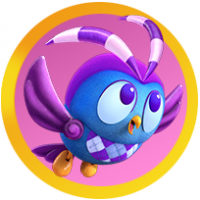 Ashraf
Posts: 8,491
Sweet Legend
🔸Welcome my dear friends, the game players ✨🌹✨
🔹What do you think of adding one of those beautiful characters from the game Shuffle Cats to our game Candy Crush Friends Saga,
🔸because their shape as wonderful cats and I think we need some cats in this world of sweets😸😽😻😼
🔷 Ruby 😻💕
🔷 Montie 😸💕
🔷 Misty 😽💕
🔸Please vote yes ✅⬆️😻
🔹And if you would kindly tell me what you think of the idea and which cats you choose in a comment here.
🔶And perhaps as a compromise .. they can add one character from those cats, and in changing their costumes, the cat turns into another character... 😁
And after you support my idea and vote yes, please vote for @DeepshikhaSharan 's idea by adding Walter to the game... Here
This discussion has been closed.