➡️ Have you passed
a milestone level?
Come grab your badges
HERE!
➡️ Help us decide about the
Jelly Summer Look!
Vote
HERE!
➡️ Need some tips for a
hard level?
Head over
HERE!
Mastery Rank- your very own Jelly Crusher resume!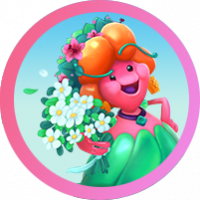 Lola_Pop
Posts: 11,199
Community Manager
Hello Jelly Crushers & Jelly Spreaders!
We've got some exciting news from the Jelly team- they have been working on a new feature and would like to show you what it is about….are you ready for this Jelly? Let's go!
⭐️ Would you like to have access to your own profile ?  A profile that shows a summary of your own progress in the game? Your very own Jelly Crusher resume!
⭐️ Would you like to be able to upgrade your own avatar by playing the game and collecting mastery points?
Welcome the brand new Mastery Rank!
⭐️ How to collect Mastery Points?
There are plenty of possibilities! You can collect them by:
Playing in the Arena: the Royal Championship
Winning in the Royal Championship
Opening a streak chest
Playing a level on the map
Collecting stars in a level
Sending lives to your friends
…and many more!
⭐️ Which rewards await you?
Lives refills
Tickets to play in the Royal Championship
New frames 
⭐️ What will it look like?
This will be the your profile page:
⭐️ When will it be available?
Very soon! As you know these features are not available for all players at the same time. Just keep an eye on your game!
⭐️ And now it's YOUR turn: what do YOU think about this new feature? ⭐️
👉️Do you think it's a good idea to have a profile that summarizes both your Saga and your Royal Championship experience?
👉️ Which rewards do you expect?
👉️ Which accomplishments would you like to appear on your profile?
👉️ Would you like to see other players profile? If so, which information would you be interested in?
Now it's YOUR chance to give some feedback to the team; they're eager to know your thoughts and feelings about it!
👇️
Leave a Comment