Guess the Boosters and win Gold Bars! (finished)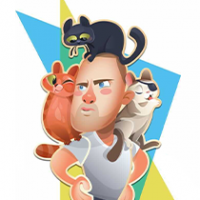 Crazy Cat Lad
Posts: 8,743
Community Manager
The Bubblegumtroll has been stockpiling Boosters for several weeks and Yeti smells suspicious behaviour long way.
Yeti who lost all his Boosters the other day suspects that it's the Bubblegumtroll that took all his goodies since he suddenly has so many.
Of course the Bubblegumtroll do not admit taking them, he's sneaky (no surprise), but he promised Yeti that is he can guess how many Boosters he has up there, he will give all his Boosters to Yeti. Not easy, but there is a way to get them back!
Now Yeti is desperate after your help! He cannot figure out how many Boosters there are and he has only one single guess. 20? 75? 120? 250? Yeti has no clue and math is not his strong side.
Try to guess or count the Boosters and post your answer here below to help Yeti out. He will give 10 Gold Bars to the five players that are first with the correct answer.
The Bubblegumtroll won't reveal the correct amount until Thursday 9 April, but don't hesitate to guess now already.
If none of you get the correct answer, Yeti will give 10 Gold Bars to all players that had the closest guess as a thank you for trying to help.
If you post several guesses, remember that it's only your last comment that counts.
You have until Thursday 9 April 2020 09:00 CET to participate and the Terms and Conditions are right here.
Do not have a Community account yet?