☠️🏰 Help Tiffi to find all Sour Skulls and win a Party Booster! (finished)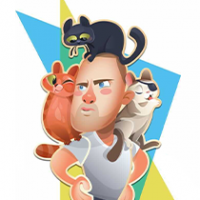 Crazy Cat Lad
Posts: 8,732
Community Manager
👨‍👩‍👦‍👦 New to the Community? Register here in just 2 seconds!
Tiffi got lost one night on her way home and ended up in the haunted house of Sour Skulls!
The only way to find your way out from this spooky mansion is to find all Sour Skulls and shout out the number.
Since Tiffi can't find them all, she needs your help!
Try to find all Sour Skulls on the picture above and post how many there are on the thread. The Sour Skulls may have different colours or tones and remember to check both inside and outside in the garden.
Tiffi will give out a Sour Skull badge to all players as a thanks for your help, but 5 five players that also got the correct answer will win a Party Booster when the competition ends.
Can you find them all? We hope so, otherwise Tiffi will get stuck in the haunted house of Sour Skulls!
You have until Friday 6 November 06:00 EST to participate and post all screen shots and you'll find terms and conditions here.
🎃 You can find all Halloween events and competitions in Candy Crush Saga HERE!