New design for Tiffi makes her more beautiful 😍 Getting rid of her triangular 3d cheeks.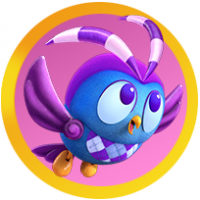 Ashraf
Posts: 8,491
Sweet Legend
A beautiful new design for the girl Tiffi makes her more beautiful while preserving her original shape .. And that is as they designed her in the CCFS game and as Kimmy's design developed in the CCSS game.
Basically my idea is to get rid of her triangular cheeks😡, because those cheeks are not beautiful at all ..
The Tiffy's design is beautiful in its completely flat and completely 3D CCFS look. 😍
But its flat design with the triangular 3D cheeks makes me upset,😠❌
This distorts its shape in my opinion, and I always dreamed that the game designers redesigned her to become more beautiful.
Let us settle for a flat design for Tiffi in the game .. with the possibility of it appearing in full 3D as Kimmy appears in the game Candy Crush Soda now.
................... ...................
🔵 Note
................... ...................
I thank all the designers of the Candy Crush game for the wonderful work they do in the game,😊🌹 and you always make the game great .. And I hope you accept my opinion on designing Tiffy cheeks without frustration .. I really greatly appreciate your wonderful work in the game. ♥️
This discussion has been closed.