💆‍♀️
Mindful Journey!
All about Candy Crush January events
HERE
🗻
Temple Training - The Bonus Rounds!
An extra chance to win Gold Bars in the event
HERE
💝🍫 The Chocolate Box is back - sweeter than ever!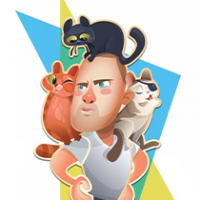 Crazy Cat Lad
Posts: 12,558
Community Manager
👨‍👩‍👦‍👦 New to the Community? Register here in just 2 seconds.
The Chocolate Box is back!
A new box, with new design and new chocolates.
Some of the changes and updates in the new box are made by request from you after the feedback survey we did earlier this year HERE.
The Chocolate Box will still contain four different chocolates and you will need to complete one quest from each one to claim a tasty reward. Just like it used to be.
One of the changes that at the moment are being rolled out is that the chocolates are now put in nice and tidy rows so it will be easier to choose your flavour and task.
The chocolates are also new! No wrapping paper anymore, which gives a more chocolaty and yummy look. The new chocolate fillings are mint, red berries, caramel and pistachio.
A progress bar is now shown on the lid to make it easier to keep a track on your progress in the current task.
Once you have completed a task, the box will only contain the remaining chocolates where you need to choose a new Chocolate and task, i.e. the whole row where you completed the task will get removed from the box.
Four new tasks are also being introduced:
Collect 20 Ingredients (Cherries and Hazelnuts)
Clear 100 Jelly
Remove 300 Frosting
Remove 100 Licorice
Now the tasks are also randomly added to the chocolates every time. So the task behind each piece of chocolate can be different each time you start a new box. 
If you get stuck on a task or just changed your mind, you can at any point cancel it and pick a new piece of chocolate with another task. 
The new Chocolate Box with the four new tasks and other new features have not reached all players yet. If you still have the previous version or are missing some of the new features in your Chocolate Box, please stay tuned and make sure your app is updated to get all new Chocolates soon!