💆‍♀️
Mindful Journey!
All about Candy Crush January events
HERE
🗻
Temple Training - The Bonus Rounds!
An extra chance to win Gold Bars in the event
HERE
🍬🐍 Sssomething is coming to the game - choose the name for our new candy! (ended)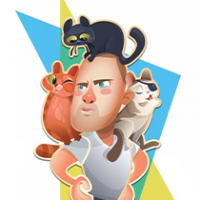 Crazy Cat Lad
Posts: 12,505
Community Manager
👨‍👩‍👦‍👦 👋 New to the Community? Register here in just 2 seconds.
Bear in mind it's not the same account you use in your game and it's not the account you use when you log into King.com, it's a Community account; which means you'll need to create one. 🙂
Sssomething new is sssneaking in to Candy Crush Saga!
Yes, a new feature is on the way to the game. It's sssly, sssassy and sssmart...
This new sssweet feature will soon appear on the game board, but how does it work? For now that will be a sssecret and a sssweet sssurprise...
Everything is ready for this new addition, except one thing... the name!
We want you to help us to decide and choose the name for the new feature by voting and commenting here below. 
The poll will close on Friday 28 May 2021 (04:00 EST/ 10:00 CET), so don't hesitate and vote now!
📱 Get back to your game HERE 📱
🍬🕹️ Don't forget to join Yeti's Candy Tournament HERE!
🌳🌹 Gummy Gardens - a new event in the game. Win bonus rewards HERE!
🐚🐸 Poll of the week - Licorice Shell vs Frog. Vote HERE!
🍬🐍 Sssomething is coming to the game - choose the name for our new candy! (ended)
650 votes