🏖️🏕️🏛️🍹 Candy Summer Vacation Contest - What vacay type are you? (finished)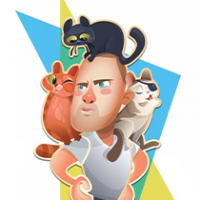 Crazy Cat Lad
Posts: 14,137
Community Manager
👨‍👩‍👦‍👦 New to the Community? Register here in just 2 seconds.
Summer 2021 is here and many of you will pack your bags to get away for a week or two and enjoy a nice vacation.
What are your plans for this summer?
What vacation type are you?
What type of vacation do you normally do or dream about?
Let us know and get the chance to win Unlimited Lives and Color Bombs!
🏖️ Are you beach person like Tiffi and want to chill by the sea, have a swim and relax in the sun?
🏕️ Is it hiking in a forest or in the mountains like Licorise and feel the scent of fresh air and freedom, and waking up to the song of birds your thing?
🏛️ Are you more sophisticated like Mr Toffee and want to stay in a nice hotel, in a big city that offers loads of a culture experiences and nice restaurants?
🍹 Like Yeti, are you a party animal and love to dance all night with a refreshing drink and find new friends?
Let us know what vacation person you are by voting and commenting here below.
Remember to motivate your vote well, since we will pick four winners, one in each category, with a sweetest description when the competition ends.
The four players will win 12h Unlimited Lives and 12h Unlimited Color Bombs!
You have until Friday 6 August 2021 06:00 EST/ 12:00 CET to participate and you'll find terms and conditions here.
🏖️🏕️🏛️🍹 Candy Summer Vacation Contest - What vacay type are you? (finished)
420 votes
This discussion has been closed.