🍬🕹️🤼‍♀️ Yeti's Candy Tournament - Bonus Quest! (ended)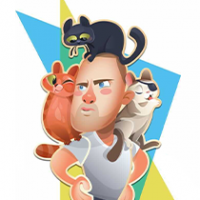 Crazy Cat Lad
Posts: 10,490
Community Manager
👨‍👩‍👦‍👦 New to the Community? Register here in just 2 seconds.
The 15-week Candy Tournament is over, but if you missed one week, you have an extra chance to get that last quest and badge this week.
The Bonus Quest is slightly different from the other weeks. This week we have a small quiz for you!
Simply answer the five questions below by commenting on the page here and you will have the chance to get your last badge.
The five questions have multiple answers and the questions are...
1. What is the name of this character?
A Benny the Bunny
B Johnny Jumper
C Roger Rabbit
2. What year was the Party Booster introduced in the game?
A 2012
B 2015
C 2017
3. What name did the Community choose for the new snake shaped candy that is coming to the game?
A Candy Cobra
B Melon Mamba
C Crush-a-conda
4. How many squares does the Jelly Jar spread the jelly on when it floats away from the game board?
A 3
B 9
C 12
5. What does Casey do and is in charge of in the Candy Kingdom?
A She takes care of the Boosters
B She is in charge of the Railroads
C She keeps an eye on Tiffi
If you get at least three of the answers correct, you will have the bonus quest completed.
However, if you get all five questions correct, then your bonus quest will count as two quests!
A tip is that all five answers can be found here in the Community. If you found the answers, please do not link to those pages in your answer. Your comment will be edited and disqualified from the Bonus Quest.
The participation for this quest will end on 30 June 2021 at 05:00 EST/ 11:00 CET and you can find the Terms & Conditions here.