🏋️🚴‍♀️🏊‍♂️🏃‍♂️ Candy Crush - Crusher League!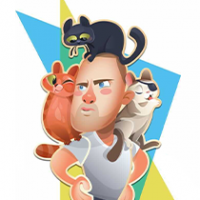 Crazy Cat Lad
Posts: 11,147
Community Manager
👨‍👩‍👦‍👦 New to the Community? Register here in just 2 seconds.
A four week athletic candy challenge is coming to the game. Get ready for the Candy Crush - Crusher League!
When?
21 July to 16 August 2021
What exactly will happen?
During these four weeks the blue, purple, green and orange candies will look slightly different in the game. These four candies will be redesigned to suit the fast and strong athletic theme in the Crusher League event.
How do I play the challenge?
Every week there will be a new theme and a new challenge where you need to crush and collect a specific candy.
You will compete against other players and need to get to the top 10 of your leaderboard to claim a reward when the challenge ends.
You can follow your score and position on the event's leaderboard. The players on your leaderboard are randomly selected around the world.
Playing your current level will give x10 the points in the challenge compared to replaying your previous levels.
All other events and features like Fantastic 5 will be running and be available as usual during these four weeks.
Get access to the fourth and final week!
If you manage to finish top 3 in any of the first three weeks, you will then also qualify for the final and fourth week.
The final and fourth week is ONLY available if you managed to get to top 3 in one of the first three weeks. 
The fourth week also has some brand new exclusive rewards!
Finish in the top 10 and you'll win a variety of different boosters... but finish in the top 3 of your leaderboard and you'll win exclusive rewards! First place will also win the ultimate Party Booster!
Week 1 - Swimming challenge with Tiffi and Olivia
21-26 July
The first week the challenge is to collect the blue Candy Droplets.
Week 2 - Weightlifting with the Bubblegum troll
28 July - 2 August
The second week is to collect the purple Candy Kettlebells.
Week 3 - Cycling with Yeti
4 - 9 August
The third week the green Candy Wheels will be your task to collect. 
Week 4 Grand Final - Hurdle racing with Mr Toffee
11 - 16 August
The final and fourth week all focus is on the orange Candy Trophies. 
Please note that you will need to get to the top 3 in one of the previous weeks to be able to participate in the finale!
Ready! Get set! Crush!
Pssst!
Do you like the new candies in the event?
Vote on which one is your favorite HERE!