🧘‍♀️ Yeti's Yoga Yumbo - Gold Bars to win!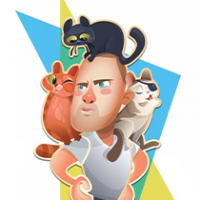 Crazy Cat Lad
Posts: 12,467
Community Manager
Time to get in shape so you're all fit for the beach season this year!
That's what Yeti thought and tried out some yoga. It didn't quite go as he expected. He got one of the positions completely wrong, so maybe beefy is the new skinny after all?
Get the chance to win Gold Bars by guessing where Yeti did get in the wrong yoga position.
Six different yoga positions, but one of them is not correct nor possible for Yeti to do. Can you guess which of the pics it is?*
Post your guess by commenting the letter of the yoga position here below!
Five lucky winners who guessed the correct answer will win 30 Gold Bars to their game.
*All Yeti positions are 100% photoshopped. Yeti did not get hurt or injured when making this competition.
💆‍♀️☁️ Find all info and details about all Mindful Journey events HERE!
You have until Friday 4 February 2022 05:00 EST/ 11:00 CET to participate and you'll find terms and conditions here.
👨‍👩‍👦‍👦 New to the Community? Register HERE in just 2 seconds.