Due to an issue with our servers, on the 5th of July
all Private Messages will be deleted and disabled.
Read more
HERE
🏖️
Sweet Summer Season!
Find all beach season events in July
HERE!
☀️
Where do you play Candy Crush Saga summer 2022?
Share your plans and win 24h Unlimited Lives and a Party Booster!
HERE!
🔮 Magic Shuffler is here - new Booster in Candy Crush Saga!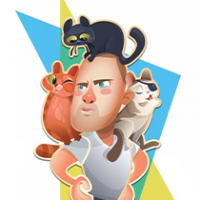 Crazy Cat Lad
Posts: 13,863
Community Manager
Our new candy mixing booster is here!
The Magic Shuffler that the Community chose the name for HERE in January is now being introduced  in Candy Crush Saga.
How does it work?
The Magic Shuffler will reshuffle all candies on your game board. This will hopefully give you better matches and a sweeter mix of candies on a tricky level.
How can I use it?
You will find the Magic Shuffler on the in-game Booster panel when playing a level. 
You can use the booster by either first watching an ad or by purchasing it with Gold Bars. 
The option to watch an ad will only be available in the first shuffle on the level.
What candies are shuffled?
All "regular" candies will only be shuffled with the Magic Shuffler.
Special Candies like Striped and Wrapped Candies and Color Bombs will stay where they are. All blockers like the Magic Mixer, Chocolate Spawner etc are also unmovable. 
Good to know!
When watching an ad, you will need to watch the whole ad till the end to use the booster. 
You can skip the ad at any point and go back to the game. Bear in mind though, that when skipping the ad, it will be shown as used even though you didn't shuffle the candies.
When will I get the Magic Shuffler in my game?
The Magic Shuffler is getting introduced to all players and on all platforms during May and June 2022.
Make sure to have the app updated to get this new Booster in your game as soon as it's available in your game!
👨‍👩‍👦‍👦 New to the Community? Register HERE in just 2 seconds.