🏃
Candy Spring Race!
Collect badges and win Gold Bars
HERE!
❓️
Can you crack the Candy Crush code language?
Win Gold Bars if you can
HERE!
🐨👸💃💪
What Candy Crush player are you?
Find out and claim your personal badge
HERE!
🏳️‍🌈❤️ Celebrate the colourful month of love with us!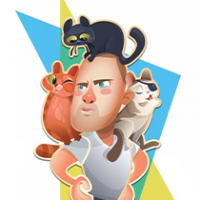 Crazy Cat Lad
Posts: 13,472
Community Manager
🏳️‍🌈

New to the Community? Register here in just 2 seconds.

June is the month of love and the right to love!

All love is sweet love in our Candy Kingdom and we are celebrating this the whole month here in the Candy Crush Community.

The rainbow colours represent the diversity and all the love that we have in our society. To celebrate this colorful month of love we have a small challenge for you.

Post your most colorful photo you have in your phone or desktop, or a photo that for you represents love!

A pic that explodes with colours and/ or love. 

The pic can be of anything! As long as it's full of colours, love or happiness!

All players that share their most colorful pic of love will get this Candy Rainbow Love badge:

30 June we will also pick the three most beautiful, sweet and awesome pics and the players will win 30 Gold Bars each to their Candy Crush Saga!

We hope that the thread will be the most colourful thread, full of love and joy in the whole Community!

The participation for this event will end on 30 June 2021 at 05:00 EST/ 11:00 CET and you can find the Terms & Conditions here.

Pssst!

Did you know that some of the new levels between levels 9471 and 9665 are inspired by this rainbow and love theme? There are 23 levels in total in this theme and here's one of them:

Can you spot and find these levels in your game? If you do, post a screenshot of the game board here as well if you found any of the levels!

❤️🧡💛💚💙💜 Find all love celebrations in June in the Community HERE!
This discussion has been closed.