🏆🌟🌟 (ENDED) Beat the Superstar contest 🌟🌟🏆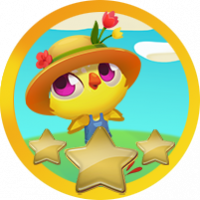 Chicken_Slayer
Posts: 12,448
Superstar
👉No account yet? Sign up here in 2 seconds! 👈
Hello all players!
Welcome to the next "beat the superstar" farmtastic challenge.
Every two weeks you get the chance to beat a superstar and this time, its my turn so thank you for playing 😊
I apologise in advance to the players who need to scroll down through the levels ,but please do because it is worth it. Do not be put off by the score you need to beat either. There is a lot of grass and cascading crops! I did check over and over that it was a challenge without being completely unfair. Its my first so I wanted to get it right.
Level 99 and this is my score. You can beat me easily 😉
As before,
The Prizes:
🥇1st Best score: 30 GB + Badge
🥈2nd Best score: 25 GB + Badge
🥉3rd Best score: 20 GB + Badge
Anyone who can beat the score will win 3 shovel boosters; however, the top three scores will win Gold Bars and a very special Champion Badge! Isn't it pretty!!
You have until 15:00 CET 1st June to enter
(2:00 pm if you live in the UK)
Contest Terms & Condition link here.
I have chosen level 99 for a good reason. For you long term players do you remember when the levels were coming out and 99 was one of the most vilest levels ever. You had to get so many apples with so few on the board and every time you got near to the apples you needed, the water buckets would splash out and cover them. It caused many frustrating playing hours. So when looking for a level to play that everyone would have access to, I went back to look at it as I know it has changed a few times and discovered it had changed again. Its wayyyyyy more fun now.
The score doesn't seem so low, but I played this many times in testing and it really is achievable and it says super hard, but it really isn't so have a go. Are you up for the challenge???
Leave a Comment