🏅Badges! Join the Weekly Race
HERE
and share your scrapbook
HERE
🍩 Friends Battle Royale! Vote now
HERE
🌈New in the Community? Say Hi
HERE
🦝 Rachel's back in town! Tell the studio what you think
HERE
💰 Guess which is our sweet raccoon's art style and win Gold
HERE
🌴 It's ON! Join our
Weekend Challenge HERE
Tiffi loves her friends - meet Odus!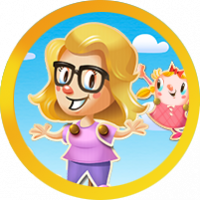 Elsa
Posts: 31,496
Community Hub Moderator
Odus is an owl with a violet-theme colour body, which matches the night sky. He has a very three-dimensional look, even though he is just animated artwork. His eyebrows resemble purple striped candy canes, and his wings are a bit small. If you look closely when he is in a nervous state, you can see that his feet and wings are not connected to his body.
Odus made his first appearance in Candy Crush Saga.  He was the owl that carried Tiffi off to Dreamworld whenever Tiffi went to sleep as he believed that she needed a break from helping people. Odus balanced on the moon scale during Dreamworld gameplay. Although he is an owl, he fell off the moon scale if the player matched too many of a certain candy type, failing the level. During moon struck, he was seen flying into the middle of the board (where a moon appears), turning into a silhouette, and then blowing up the colour matching the left side of the moon scale in a five-coloured level, or both colours on the moon scale in a six-coloured level.

People had been confused by the gender of Odus for months. It is now confirmed that Odus is a male owl.  He was present in every Dreamworld level except the pre-buff level 277 and original level 440. His last Dreamworld appearance was level 665, the last Dreamworld level. On May 17, 2017, Dreamworld was discontinued from the game.
Obviously, Odus did not say the words "Moon Struck". It is in fact, Mr. Toffee, who says it.  However, Odus did make some noise in web version, when he worried, panicked, fell down, or was about to release a moon struck. After the player successfully completed the objectives of a Dreamworld level, Odus would dance happily on the moon scale. On web version, he flapped his wings. On mobile devices, he jumped on the moon scale.
Although Odus is the most hated character in the game, it was not Odus that made you lose. It was the moon scale that did so, but since Odus is the character associated with the moon scale, he is hated equally. However, Odus made the choice to go on the moon in the first place, so the hate for Odus is not unwarranted. It could be the moon scale's fault that it tipped Odus, but Odus actually set himself up for it.
It is unknown if he really has the ability to fly. He was seen flying during moonstruck, but this was really strange, as he does not fly when he was about to fall but he would drop feathers when he fell down. This was always visible in web version, however in mobile version, it was only visible due to glitches which caused longer animation when he fell down.

He also appears in one of the events in Candy Crush Jelly Saga, Birthday Bash.  He is the one of the few characters that appears in all released Candy Crush series.

In Candy Crush Friends Saga, he makes another appearance as one of the protagonists and gets a re-design.

Odus the Owl is old and wise. Well, he's old anyway. Unfortunately, he's lost his spectacles and can't read a word without them. To make up for this, he relies on his dubious memory to dispense questionable advice. Your feathery friend Odus can create not one, but two special Striped Candies at once! Match 8 purple Candies, and he'll spawn both a vertical and a horizontal Striped Candy at random on the board. Talk about flying colors!
_____________________________________________________________________________________
Would you like to learn read some trivia about Tiffi and her friends?
Click on any of the names below to learn more about them.
Tiffi     Jean-Luc    Odus     Bubblegum Troll    Misty    Olivia    Mr. Yeti    Red Rabbit    Dachs
_____________________________________________________________________________________


🌈_________________________________ 🌈_____________________________ 🌈
Leave a Comment