🏅Badges! Join the Weekly Race
HERE
and share your scrapbook
HERE
🍩 Friends Battle Royale! Vote now
HERE
🌈New in the Community? Say Hi
HERE
🦝 Rachel's back in town! Tell the studio what you think
HERE
💰 Guess which is our sweet raccoon's art style and win Gold
HERE
🌴 It's ON! Join our
Weekend Challenge HERE
Tiffi loves her friends - meet Mr. Yeti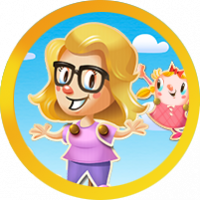 Elsa
Posts: 31,496
Community Hub Moderator
Mr. Yeti (Yeti) is a recurring character in Candy Crush Saga. He runs the Yeti Shop where the player can buy boosters.  He is Tiffi's best friend in the Candy Kingdom and is by her side through all her adventures. He's definitely the coolest guy in Candy Town, so laid back he's practically horizontal!  He's really likeable but a little slow to respond sometimes.  Legend has it, it's because he's busy eating delicious chocolate in his home in the Chocolate Mountains. It's really hard to get him to stop because they are just so yummy!
Mr. Yeti is very sleepy, as he encountered himself to fall asleep in both Chocolate Mountains and Toffee Tower.  He bathes in a big bath of soda, five times a day because it makes his fur sparkle.  He is also a main character in Candy Crush Soda Saga.

He is one of the characters that had the same problem twice (he is asleep). The other character with that trait is Allen (his spaceship crashed). 

In a King.com event "Win a horror poster", he is wielding a lollipop hammer in the "Candy Crush Saga - The Crusher Revenge Is Sweet" poster. You can view this animated here.
He first  makes an appearance in the 4th episode, Chocolate Mountains.  Tiffi finds him asleep on a mountain, thus she needs to find a way to wake him up.  Eventually after shouting "Wake up!", Mr. Yeti wakes up and thanks Tiffi for doing so.
In the 48th episode, Toffee Tower he reappears sleeping on the tower.  Tiffi wakes him up by using an air horn.  He falls off the tower, but it is unknown what happened to him.
Mr. Yeti also introduced the timed levels in Candy Crush Saga.
He makes a cameo appearance in the story arcs representing Worlds Eleven and Twelve.  He is one of the 4 characters to appear in the audience.  The other 3 characters are Denize, Bubblegum Troll and Mr. Toffee.  He also makes a cameo appearance in the Syrupy Circus episode.  He is among the spectators in the circus show.
He celebrates New Year's Day in the Peppermint Party episode and Tiffi combs his fur to make it untangled in the Sugar Shrubs episode.
Tiffi and Mr. Yeti visit a fortune teller to find out what will happen after level 2000, but the fortune teller is the Bubblegum Troll in disguise. 

He attempts to bake a three-layered cake for Tiffi when she visits in the Pastry Peaks episode.  It got burned but Tiffi uses her magical paintbrush to sugarcoat the sooty mess.
Tiffi and Mr. Yeti are having fun at the masquerade in the Meringue Mansion episode. 

In a mobile event "Tasty Mission", he is collecting these ingredients to bake a pie: a purple candy, some multi-coloured sweets (which look like Skittles), and a red jelly fish.  While he wears nothing in Peppermint Party of web version, he is seen wearing a pair of glasses shaped in the number "2016" in the mobile equivalent event "Happy New Year". As a main character in Candy Crush Soda Saga he gives you some helpful tips if you have trouble with some levels.

In Candy Crush Soda Saga, he gives you some helpful tips if you have trouble with some levels.  In the first episode, Candy Town, he is concerned about the disappearance of Tiffi.  He starts getting worried because Tiffi's letters suddenly stopped coming.   He  appears again in the Jellylicious Mountain episode where he is flying to get to jelly mountain.
Little does he know that there is a mad jelly genius who is trying to jellify everyone.  "I'll be fine, mountains are my thing! It's just "so" slippery!" he says.  In Candy Crush Jelly Saga, he is a minor character.  He makes his first appearance in the Cotton Candy Clouds episode along with Jenny.  He is Jenny's uncle. In mobile versions he is trapped by Jelly Queen. 

In the Sweet Bamboo Festival episode, his body has been changed to a new look.
In Candy Crush Friends Saga, Yeti is enormously strong, yet riddled with anxieties.  He is a lovable lunkhead who came from the game "Yeti Trap," where he was constantly hunted.  Now he's in the peaceful Candy Town.  He meditates and does yoga to try to control his fears and his enormous yeti appetite. Match 12 cyan Candies, and Yeti will throw a Wrapped Candy into the mix. Prepare yourself for a big boom and a Candy avalanche! If the player collected 12 cyan candies, Yeti will throw a snowball to one of the cyan candies on the board, then change it to wrapped candy. If there is no cyan candy on the board, then Yeti will change a random candy (except special candy) to a wrapped candy.

_____________________________________________________________________________________
Would you like to learn read some trivia about Tiffi and her friends?
Click on any of the names below to learn more about them.
Tiffi     Jean-Luc    Odus     Bubblegum Troll    Misty    Olivia    Mr. Yeti    Red Rabbit    Dachs
_____________________________________________________________________________________


🌈_________________________________ 🌈_____________________________ 🌈
Leave a Comment