🏅Badges! Join the Weekly Race
HERE
and share your scrapbook
HERE
🍩 Friends Battle Royale! Vote now
HERE
🌈New in the Community? Say Hi
HERE
🦝 Rachel's back in town! Tell the studio what you think
HERE
💰 Guess which is our sweet raccoon's art style and win Gold
HERE
🌴 It's ON! Join our
Weekend Challenge HERE
Tiffi loves her friends - meet Olivia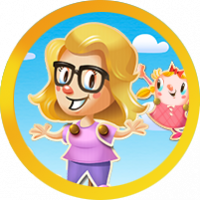 Elsa
Posts: 31,496
Community Hub Moderator
Olivia is a minor character in Candy Crush Saga. She is a pink octopus and wears a sailor hat.   Before introducing level 126, she is encountered with her broken boat that Tiffi offers to fix. After completing level 140, Tiffi completes her task of fixing the boat with bubblegum. In the 15th episode, Sweet Surprise, when the Bubblegum Troll pops out of the cake, she yells, "GET HIIIIIIIIIM!".  She is adventurous, tough and a great multitasker.  She likes bracelets and is a marine biologist.  Her morning routine involves a spin in the washing machine.  

In the Snack Shack episode, you can see her serving snacks to Tiff.
In the Sprinkle Sea episode, she gets entangled by a seaweed, and Tiffi shows up to help her disentangle.  In the Research Reef episode, she wants to study about sharks, but she is afraid to take a look at the drawn shark closely.  Tiffi gives her a shark hat so she can blend in safely. 

In the Truffle Trench episode, Tiffi and Olivia scuba-dive into a reef with rock formations that resemble cakes. Olivia has a helmet that resembles a colour bomb.

In the Dreamworld episode, Sparkle Submarino, both her and Tiffi wear sailor hats.
And now we get to Candy Crush Friends Saga.  Olivia is one of the limited-edition playable characters in this game.  You can unlock this character by collecting 450 stickers of Olivia character from gift boxes. A natural-born musician, singer and comedienne, she is a versatile and ambitious octopus with a dream in her heart.  She loves to cook and is always ready with a song or a delicious dish to lift everyone's spirits.
When you collect 10 purple candies, Olivia will hit 4 random gummy squares.  If there is no gummy, Olivia will remove random candies.
_____________________________________________________________________________________
Would you like to learn read some trivia about Tiffi and her friends?
Click on any of the names below to learn more about them.
Tiffi     Jean-Luc    Odus     Bubblegum Troll    Misty    Olivia    Mr. Yeti    Red Rabbit    Dachs
_____________________________________________________________________________________


🌈_________________________________ 🌈_____________________________ 🌈
Leave a Comment