🏅Badges! Join the Weekly Race
HERE
and share your scrapbook
HERE
🍩 Friends Battle Royale! Vote now
HERE
🌈New in the Community? Say Hi
HERE
🦝 Rachel's back in town! Tell the studio what you think
HERE
💰 Guess which is our sweet raccoon's art style and win Gold
HERE
🌴 It's ON! Join our
Weekend Challenge HERE
Who is that over there?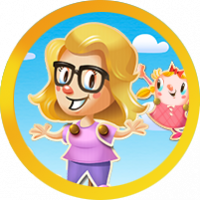 Elsa
Posts: 31,496
Community Hub Moderator
On the way back to the Candy Kingdom they see the Nutcracker, who was  a member of a Christmas toy set before he fell into the Candy Kingdom. Tiffi waves hello but continues to take a sleepy Yeti home. 

The Nutcracker believes he's been taken prisoner in this strange world, but since he met Tiffi, he's not so sure he wants to go back home. The Nutcracker loves to toot on his trumpet. Match 10 blue Candies, and he will play a few notes just for you! When he does, his sweet tune can attack up to 5 blockers in a horizontal line. He even deals double damage to Caramel Cups!  However, if there are no caramel cups on the board, he will remove up to 5 random candies especially the upper part of the board. 

He is so excited about his power.  "I have to tell Red Rabbit about my power, " he says, as he picks up the phone.  "Hello, is the Red Rabbit there?  Can I please speak to him?" says the Nutcracker. 

"Hello, this is the Red Rabbit.  Who am I speaking to?" he says.   The Nutcracker is so excited!  He grabs a walnut off the table and cracks it open with his teeth.  "Red Rabbit, I have this power just like Tiffi and Yeti.  I can help the players clear their levels by tooting my trumpet!", he says.  A moment of silence and then Red Rabbit tells him that he also has a power to help the players. 

Red Rabbit will offer help to you as your play your way through levels. He has always wanted to run fast and now that he's in Candy Town, he delights in daily speed sprints. He is all set to reach his next goal in life, to become a famous rock star!  He can help you whenever you have collected 10 red candies.  His power will attack five blockers for you at a random position on the board, making way for you to tackle any challenge ahead. 
"Did Tiffi call you yet?" says Red Rabbit.  "She wants to meet us at the Chocolate Mountains.  She told me that a lot of players need our power help to clear the hard levels.  We have to meet her at 10:00 AM.   Do you want me to stop and get you or do you want to meet me over there?"
"There is a message on my phone, so it must be from Tiffi," says Red Rabbit.  "I will meet you over there."  They both get ready to meet Tiffi and Yeti.  It's going to be a fun-filled day for all! 
As Tiffi starts heading out the door to meet her friends, her phone rings.  Mr. Toffee, her father, is frantic and needs her help immediately.
"Tiffi, please come over here now," he says.  I have to show you something.  There is something all over the place.  It's on the trees and on the grass.  You have to check it out."
Tiffi explains to him that she is supposed to meet up with her friends, Nutcracker and Red Rabbit.  She is concerned because she doesn't remember her father sounding so frantic and scared.  Hopefully it's something simple and I can meet up with my friends soon.  Let's find out why Mr. Toffee is frantic here.

🌈_________________________________ 🌈_____________________________ 🌈
This discussion has been closed.