🏅Badges! Join the Weekly Race
HERE
and share your scrapbook
HERE
🍩 Friends Battle Royale! Vote now
HERE
🌈New in the Community? Say Hi
HERE
🦝 Rachel's back in town! Tell the studio what you think
HERE
💰 Guess which is our sweet raccoon's art style and win Gold
HERE
🌴 It's ON! Join our
Weekend Challenge HERE
Tiffi and Yeti go on an adventure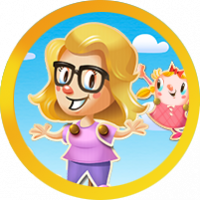 Elsa
Posts: 31,496
Community Hub Moderator
The two of them start out on a new adventure.  Tiffi thinks to herself, "I must send a message-in-a-bottle to my sister Kimmy because she doesn't know about my powers."  
Yeti and Tiffi arrive at BonBon Beach and what do they see?  There are cookies at the top of the board and Yeti gets so excited because he can see a river of fudge at the bottom.  Yeti loves chocolate.  He wants to help dunk the cookies.  Chocolate, yummy!  He tells Tiffi that the best way to get the cookies down to the river of fudge is to match the candies underneath the cookies and that can move them down.  Once they reach the river of fudge they will be dunked into it. 
"I love to help the players with this game mode, because my wrapped candies can be matched with a striped candy and what an explosion that will be," he says.  "Now that was a fun thing to do," says Yeti.  "What else can we do?"
Yeti is so sleepy!  He lets out a big yawn and decides that it's time for a nap!  Tiffi tells him, "You can't take a nap now.  Why did you eat so many chocolates when you know that it makes you very sleepy?"
Yeti is Yeti, and ever since Tiffi found him in the Chocolate Mountains, it's been really hard trying to get him to stop eating chocolate.

Oh no, what happened?  Yeti has fallen asleep.   He is crying, and he looks scared.  What could he be dreaming? 
"He must be dreaming about those blockers again," says Tiffi.  "Yeti, wake up!  You're having a bad dream again.  Let's go home and we will have to continue our journey another day," says Tiffi.  And so, they start to head home.  Tomorrow is another day.  Let's continue with their adventures here.
If you arrived here, you might want to start at the beginning .....

🌈_________________________________ 🌈_____________________________ 🌈
This discussion has been closed.