🏅Badges! Join the Weekly Race
HERE
and share your scrapbook
HERE
🍩 Friends Battle Royale! Vote now
HERE
🌈New in the Community? Say Hi
HERE
🦝 Rachel's back in town! Tell the studio what you think
HERE
💰 Guess which is our sweet raccoon's art style and win Gold
HERE
🌴 It's ON! Join our
Weekend Challenge HERE
Who does Tiffi meet up with?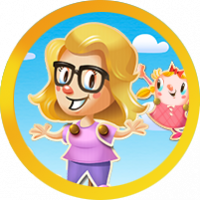 Elsa
Posts: 31,496
Community Hub Moderator
Shortly after leaving home she meets up with Odus, an old and wise owl. Ever since Dreamworld ended, he has felt a little lost.  He is now older and, unfortunately, he's lost his spectacles and can't read a word without them. To make up for this, he relies on his dubious memory to dispense questionable advice. Tiffi's feathery friend has also developed powers and he loves to help the players along with Tiffi and Yeti.  "I can create not one, but two special striped purple candies at once," says Odus.  "Match 8 purple Candies, and I will spawn both a vertical and a horizontal Striped Candy at random on the board. Talk about flying colors!  She tells Odus that she also has powers.  "Would you like to come with me," Tiffi says to Odus.  "I think we can both be very helpful to our game friends". 
Next she meets up with Misty, the Unicorn from Candy Crush Saga.  She is still living in the Candy Kingdom.  She is blessed with the kind of unparalleled self-importance that you would expect from a rare, beautiful creature. Whatever you do, do NOT call her a horse.   She is a true Candy master.  She can create all kinds of special sweets with her power! Match 15 orange Candies, then she will make a Swedish Fish, Striped Candy, Color Bomb, Wrapped Candy or Coloring Candy and throw it on the board.
So many residents in the Candy Kingdom have developed powers. Tiffi, Yeti, Odus and now Misty too.  That is totally awesome!  They are more than willing to help all the game players. Misty decides that she has to keep in touch with Tiffi because she really enjoys helping the players.

Tiffi continues on her journey.  Suddenly she sees Olivia.  "I wonder what she's up to these days," she says. Olivia is a natural-born musician, singer and comedienne.  She is a versatile and ambitious octopus with a dream in her heart. She loves to cook and is always ready with a song or a delicious dish to lift everyone's spirits. When you collect 10 purple candies she will hit 3 random gummy squares.  If there is no gummy, Olivia will remove random candies.
Tiffi tells Olivia about her powers and how she loves to help the game players.  "Me too," says Olivia.  "Do you want me along today?  I don't have any plans, so I can offer my help".
The sun is setting so Tiffi realizes that she's helped enough players and now it's time to go home.  But she promises Olivia to call her the next time she needs help.
The next morning the sun is shining brightly.  Tiffi wakes up and gets dressed quickly.  She is going to take Yeti with her today to show him how her power works.   She sends him a text message saying that she is going to eat a quick breakfast with Mr. Toffee and then she will be over to get him.  Looks like they are both going to be helping the players next.


🌈_________________________________ 🌈_____________________________ 🌈
This discussion has been closed.