🏅Badges! Join the Weekly Race
HERE
and share your scrapbook
HERE
🍩 Friends Battle Royale! Vote now
HERE
🌈New in the Community? Say Hi
HERE
🦝 Rachel's back in town! Tell the studio what you think
HERE
💰 Guess which is our sweet raccoon's art style and win Gold
HERE
🌴 It's ON! Join our
Weekend Challenge HERE
Tiffi visits Yeti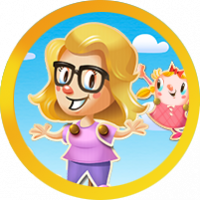 Elsa
Posts: 31,496
Community Hub Moderator
She stops to see Yeti because she needs a cup of hot tea.  She is so excited to share her new adventure with him.  Yeti is still her best friend after all these years.  He is enormously strong, yet riddled with anxieties.  He is a lovable lunkhead who came from the game 'Yeti Trap', where he was constantly hunted.  Now that he is back in the peaceful Candy Town, he enjoys yoga and meditation, which helps control his fears and insatiable Yeti appetite!
Tiffi tells Yeti about her special power and how she can throw red fishies on to the game board.  She loves to help everyone!  Much to her surprise, Yeti tells Tiffi that he also has a power.  He loves cyan candies and he tells her that he can also be helpful.  He explains to Tiffi, "If a player asks me for help, I encourage them to collect 12 cyan candies.  Once all 12 are collected, I can throw a snowball to one of the cyan candies on board which will then change it to a wrapped candy.  If there is no cyan candy on the board, I will change a random candy (except special candy) to a wrapped candy." Tiffi and Yeti are both so excited as they talk more about their special powers. 
It is getting late, so she hugs Yeti and hurries home.  Mr. Toffee will be worried and wonder where she is.  He greets her with a warm hug and wants to hear about her adventure.  They eat dinner together and then Mr. Toffee offers her some special chocolate for dessert.  Then off to bed she goes because she would like to take Yeti with her tomorrow to show him what she found.
The next morning, Tiffi wakes up early and eats her breakfast.  "Now it's time for me to go on another adventure because I love to help people," says Tiffi.  Let's continue her adventure here.
If you arrived here, you might want to start at the beginning .....

🌈_________________________________ 🌈_____________________________ 🌈
This discussion has been closed.