🏅Badges! Join the Weekly Race
HERE
and share your scrapbook
HERE
🍩 Friends Battle Royale! Vote now
HERE
🌈New in the Community? Say Hi
HERE
🦝 Rachel's back in town! Tell the studio what you think
HERE
💰 Guess which is our sweet raccoon's art style and win Gold
HERE
🌴 It's ON! Join our
Weekend Challenge HERE
Who are these trapped animals?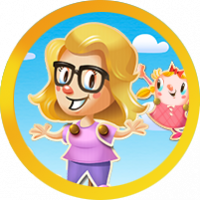 Elsa
Posts: 31,496
Community Hub Moderator
And so, once again Tiffi begins her new adventures.  In Lollipop Meadows she sees these fluffy, floaty marshmallow animals trapped underneath frosting.  In her excited manner, she asks you, the player, if you would like some help trying to release them?  She has powers now and  can create Swedish Fish out of thin air! All that you have to do is to match 10 red Candies and she and her fishies will help you, cuz' that's what friends do! Once you collect 10 red candies, she will pour a bucket of water with three fish on to the board.  The fish will randomly choose three random red candies and turn them into red fish. If there are not enough red candies on the board, she will change random colored candies to red fish candies.
 Tiffi is exhausted after helping you clear the level.  "That was not an easy job throwing the fishies on to the board," she thought.  But then she continued her walk and she really felt good that she was able to help clear those marshmallow animals. 
Wait a minute, what is that up ahead?  There are more trapped animals!  But this time they are not trapped under frosting.  It looks like they are trapped under layers of gummy.  Trapped inside the gum she can see wobbly fruit gum octopuses who have lost their ability to wiggle out of this juicy fruity jelly.    Tiffi must sit down for a minute but it really is important to get those octopuses free.  She is willing to offer you some help.  "I can offer you direction regarding what moves you need to take, but I need you to make the moves,"  she said.  That is fair, so let's go free them now!  Good job!  You cleared that level and Tiffi is very proud of you.  She must take her leave but before leaving she reassures you that she will be there to help you in the future with more levels. 
Wonder where her adventures will take her next?
If you arrived here, you might want to start at the beginning .....

🌈_________________________________ 🌈_____________________________ 🌈
This discussion has been closed.