🏅Badges! Join the Weekly Race
HERE
and share your scrapbook
HERE
🍩 Friends Battle Royale! Vote now
HERE
🌈New in the Community? Say Hi
HERE
🦝 Rachel's back in town! Tell the studio what you think
HERE
💰 Guess which is our sweet raccoon's art style and win Gold
HERE
🌴 It's ON! Join our
Weekend Challenge HERE
What is May Day?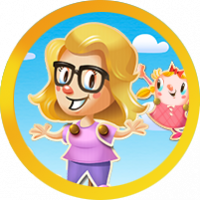 Elsa
Posts: 31,506
Community Hub Moderator
April showers bring May flowers and with those flowers comes May Day. You may ask "what is May Day?" and I will say it is a celebration of the seasons changing as well as a day to celebrate workers' rights.  
And so, our story begins ……………………………….
Jenny has heard that there is this bad virus going around and she is trying her best to comply with the lockdown, but she has had enough! She misses her friend Tiffi so much. It's time to make a phone call to find out how she's been doing with this lockdown thing. 
"Hi Tiffi, it's Jenny," she says. "How are you? Has that virus hit Candy Town too? We are in lockdown here in Cotton Candy Clouds. I am going out of my mind being stuck indoors. I don't know what might be worse, getting depressed or getting the virus." 
Tiffi is very excited to hear her friend's voice. They haven't seen each other in a while. 
"Hi Jenny "Tiffi says. " I've been meaning to call you so I'm happy that we can talk now. It's been crazy here too. Dad had to close down the candy store and both of us are now stuck at home. Every so often one of us runs to pick up some veggies and yummy fishies. Kimmy came to visit us towards the end of March. It was great seeing her. We went on an adventure to check out what Mother Nature has blessed us with this year. Springtime came early in Candy Town. We heard the birds singing, saw the trees blossoming and some flowers blooming. I should have called you to join us." 
Tiffi smacks herself on the forehead! How foolish of me for not calling my best friend to join me and Kimmy in our adventure. 
"I was busy at the end of March," Jenny says. "I wouldn't have been able to join you at that time. How about we get together now. I also heard the birds singing not too long ago and the flowers are just about starting to open. Why don't we get together and look for more of Mother Nature's miracles?" 
The girls make plans and Tiffi calls Kimmy to find out if she wants to join them. 
Let's continue with the next part of our story – Kimmy searches Google to learn about May Day

🌈_________________________________ 🌈_____________________________ 🌈
This discussion has been closed.