🏅Badges! Join the Weekly Race
HERE
and share your scrapbook
HERE
🍩 Friends Battle Royale! Vote now
HERE
🌈New in the Community? Say Hi
HERE
🦝 Rachel's back in town! Tell the studio what you think
HERE
💰 Guess which is our sweet raccoon's art style and win Gold
HERE
🌴 It's ON! Join our
Weekend Challenge HERE

What a fun day!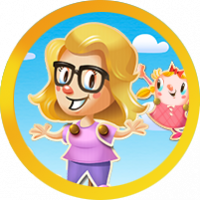 Elsa
Posts: 31,395
Community Hub Moderator
The three of them take a seat and wait for someone to bring them the menus. They all start talking about the community and how much fun they are having helping the players. Tiffi hasn't been in the Beginner's Corner for a while so she will make a note of that and make sure that she gets there before the end of the week.  
The waiter comes over with the menus and takes their drink orders. A few minutes later they are ready to order as the waiter arrives with their drinks. They are so busy chatting away that they didn't notice when the food was put down in front of them.  
"Girls, how do I get back home?" asks Tiffi. "I hope that you can give me directions because I have no clue where I am or how far Candy Town is from here." 
The girls tell Tiffi not to worry because they will take her back home. Maybe they can sleep over. Now that's an idea! They finish eating and shortly after they start heading back to Candy Town. 
The End!
Start at the beginning - Tiffi ends up in the town of Wellspring
Leave a Comment