A long time ago in a galaxy far, far away …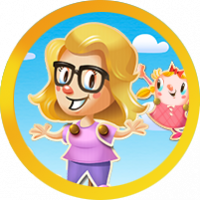 Elsa
Posts: 32,694
Community Hub Moderator
One day Kimmy meets up with Chewy in the Soda community and she finds him having a conversation with this little green character. Who could that be?
"Hi Chewy, who is your friend?" asks Kimmy.
Chewy is having such a good laugh because he doesn't believe what that little guy just told him. The little green character looks in Kimmy's direction and introduces himself.
"Hello, my name is Grogu," says Grogu. "Who are you? I was just telling your friend here that I come from a galaxy far far away, but I don't think that he believes me."
Kimmy introduces herself and then she asks him what galaxy he is from. 
He takes out his phone and shows her this video……………
Now that's a cool video! She asks him why he's in the King community.
"I think I might have taken the wrong turn," Grogu says. "On May 4 there is going to be a National Star Wars Day and I came here to meet some of our fans. I got lost and have no clue where to go."
Kimmy never knew that there was such a national day, but she tells Grogu that she'll try to get him some help.  Chewy has to leave so he turns to Grogu and tells him that it was nice meeting him, meanwhile he's laughing on the inside because he doesn't believe that he's from a galaxy far far away. He thinks he must be an actor all dressed up for a movie.
Let's continue - Grogu explains Star Wars to Kimmy
🌈________________________________________________________ 🌈
This discussion has been closed.