Completing Daily Quests for Color Bombs or Coloring Candies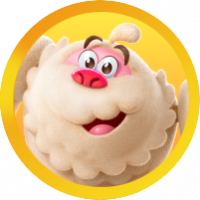 Uncle_Bob
Posts: 162
Level 3
Some Daily Quests require making a number of Color Bombs or Coloring Candies. One strategy for making them involves backtracking to a level that has (1) only 4 candy colors and (2) an open workspace for manipulating the candy patterns. One such level is 4321, which has only cyan, orange, red, and yellow candies and a reasonably-sized workspace that can be cleared (Step 1):
As you clear the workspace, keep a close lookout for patterns that either directly make a Color Bomb, or which can be manipulated to create that pattern (Step 2):
Coloring Candies are harder to make than Color Bombs, but keep a lookout for possible ways to create the required pattern of candies:
Finally, once you have created a Coloring Candy, look very closely for how you could use it to change the colors of exactly the right candies to create ANOTHER Coloring Candy. In this example, setting off the first red Coloring Candy created a second red Coloring Candy lower down in the workspace:
Does anyone else have effective strategies for making Color Bombs and Coloring Candies?
One thing I have found out, is that the Color Bombs or Coloring Candies produced by "dispensers" that you find on a few levels will NOT count as ones that you must create to satisfy a Daily Quest, so you have to really MAKE them. Cheers and Happy Crushing!