🥳
Go to level feature!
YOU wanted it, the team made it possible!
HERE
Olivia wants to be a cowgirl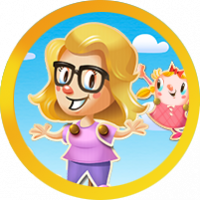 Elsa
Posts: 35,142
Sweet Legend
Not too long ago Olivia asked the studio to create a new outfit for her. They asked her what she'd like but she had no clue so the graphic artists said they would surprise her. Today is the day that she meets up with them and she can't wait to see what they created for her.
On the way to meet the graphic artists she bumps into Jelly Queen.
"Hi Jelly Queen, what's going on with your flower headpiece?" asks Olivia.
Jelly Queen says that while she was helping a player with their game level these bees suddenly appeared and they were swarming around her head. She is here to find out if the studio can give her a new headpiece.
"The studio made me a new outfit and I'm on the way to get it," says Olivia. "I hope that you can get a new headpiece. I couldn't deal with bees swarming around my head all the time."
They both go to the studio's office together. Olivia has to wait for a while because they want to take care of Jelly Queen and get those bees out of the office. They are able to offer her a new headpiece and she walks away singing a happy tune. Now it's Olivia's turn. The graphic manager brings her new outfit to her and Olivia can't believe what they made for her. She's going to be a cowgirl! 
She loves her boots and she even has a sheriff badge! She is given a lasso and they try to show her how to use it. Yeah sure! Olivia knows that she will need to practice that! 
She starts to do the happy dance! She adores this new outfit and thanks them very much. Time for her to go home to show off her new outfit.
Let's continue - Cowgirls In The West
This discussion has been closed.