➡️ Have you passed
level 5000?
Come grab your badge
HERE!
Behind the Jelly Scenes: You asked Nadia and she responded ! (Part 3)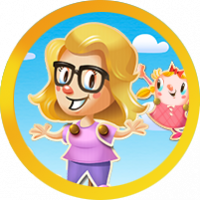 Elsa
Posts: 34,556
Community Hub Moderator
💫 No account yet? Sign up HERE in 2 seconds!
Hi Jelly players,
Towards the end of October we posted a message asking if you had any questions for Nadia, the Art Director of Candy Crush Jelly Saga, and now we would like to present some of your questions and her answers. Here is Part 3 of her responses.
kingtrixi - I haven't been here long, but I would be interested in when Candy Crash has been around and how long have you been around? There is certainly a lot of work behind it.
The first Candy Crush game came out in 2012. Candy Crush Jelly Saga was officially released early 2016. I Joined the Jelly team in 2019.
Nix66 - As the Art Director, Nadia, do you have a team? If so is each team member concentrating on a certain character or is it all a collaboration?
Hi Nix66. I have a team of 9 artists and designers. The work is not divided by character but by type of work. For example sometimes one artists creates the character, and another animates it. So not all artists and designers do the same work. We have 2D artists, 3D artists, Animators, UI artists and UX designers.
JMag - My question is how many hours a week do you spend working on CCJS? How much of that time is spent on RC?
Hi Jmag. Officially my workweek is 40 hours, but we don't really clock in our out. I would not be surprised if some weeks it's a little more and some weeks it's a little less.
That's not an easy question to answer, because it depends on how you look at it. The amount of time we spend on RC depends on which feature we are developing, but even if we're not working on RC itself, we're often indirectly working on it anyway. Right now for example we are working on a feature which will make RC accessible from a bottom menu. So officially we're currently not working on RC, but in the end the feature is going to make RC as accessible as the map.
Pcj - How did you get interested in doing your job?
Hi Pcj. My older brothers saved up all of their allowance and bought a Sega Master system in the 80s. The first videogame I played Alex Kidd in Miracle World, and I've been playing videogames ever since.
I would also watch a lot of Disney movies, and read Marvel comic books, which started my interest in drawing.
The combination of drawing and playing videogames all the time, made it sort of inevitable that I would end up where I currently am.
Sofia1992 - First of all, how do you start to work for King and how many years?
Hi Sofia1992.
I joined King 6.5 years ago. I was working at a different gaming company at that time, but I was already living in Berlin, Germany. The news started spreading that King was going to open a new studio in Berlin. I admired King a lot, Farm Heroes Saga was my favorite King game at that time, so I applied for a Job. I started as a regular artist and through the years took on more responsibilities. 
Secondly, I'd like to tell you that I love the backgrounds of this game so please tell us, from where you and your team get inspiration to create them?
The first thing that happens when designing a new episode is research. The team comes up with some ideas and looks for reference pictures. The ideas the team look for are for a "theme" some "sweets" and a "color palette". Then the artists start creating rough sketches for all the different ideas.
And also, who exactly from your team created Royal Championship Feature? How did you come up with the idea to create that very special feature in this game?
The idea for the feature was there from the start, even before Jelly was released! But there wasn't any time at the beginning to work on such an unproven feature.
At some point years later the team had the opportunity to come up with ideas for what the future vision for Jelly it be, and it turned out that no one had really forgotten about it. The team almost unanimously decided it wanted to take Jelly into a more competitive direction. So it really wasn't one person who came up with the idea, but the whole team.
Please feel free to check out all 5 parts:
Leave a Comment