🎃 New! Candy Crush Saga: the Spooky Skull Tower event! 👻 💀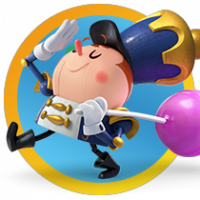 Pounawea
Posts: 3,742
Community Manager
👨‍👩‍👦‍👦 New to the Community? Register HERE in just 2 seconds!
Dear Candy Crushers,
Something spooky is looming in the shadows... A very spooky event coming to Candy Crush Saga: Spooky Skull Tower event!
Get ready to enjoy this mysterious challenge with Tiffi and win sweet rewards!
Are you up for this adventure? Yeah?! Then, keep reading and find out more information:
🗓️ Dates: ️from October 26th until November 1st.
🆙 Update your game to the latest version! (App version 1.188)
❗Min. level required: Level 25  
Halloween 2020 - Sweeter and spookier than ever in Candy Crush Saga! 🎃  👻  💀 Check out ➡️ Halloween events overview!!
🎃 👻 🕸️ The Spooky Skulls event: How does it work?
Trick sour skulls (new in-game element!) and complete all levels to get sweet treats each time you win. We will have 2 different adventures, the Spooky Skulls and the Hallowed Tower!
💀💀🎃 The Spooky Skulls
The first adventure will have 5 levels.
Once you passed the first 5 levels, you will unlock the second adventure, with 5 new levels for you to continue with Tiffi's adventure!
The first 5 levels are not repayable, once you complete them, you won't be able to play them again.
🎃 👻 The Hallowed Tower
The Hallowed Tower will also have 5 levels, but in this case, you will be able to play them more than once!
That means, once you have passed the 5 levels and collected your sweet rewards, you will have the chance to replay it and win more rewards!
Note that, if you don't complete a level, Tiffi will fall back to the first level.
Get various rewards each time you win.
💡🤩 First time you play the new in-game element, Sour Skulls?
They look scary but don't worry, we got your back! Find below our Level designer tips to master them! Sour Skull tips!
Plan ahead! The next pedestal in the Sour Skulls travel sequence will be highlighted with a small pulse.
Do not worry about ALL the pedestals. Focus where the Sour Skull is now and where it is about to land. Remember, it only has 5 lives!
Its a good idea to focus on the Sour Skull first, as destroying it with the Pedestals, can reveal key elements in a level!
*Learn more about the Sour Skulls game mode in the following community announcement ➡️ HERE
____
That's all for now Candy Crushers! Get ready to crush the Sour Skulls and get to the top of the Hallowed Tower, sweet rewards are awaiting! 🎁
We need your feedback, Candy Crushers!
👉 Once the event starts, don't forget to share your opinion and give us feedback! Also, share with the community your progress climbing your way up to the top of the tower to celebrate your achievement.
Have a delicious day and happy & spooky adventures everyone! 🍬 🍬 🎃  👻  💀 
______
Community recommendations - Current Hot Topics:
Pumpkin Pursuit in Candy Crush Saga 🎃 🍬
🔝 🆙 Candy Crush Saga: the Spooky Skull Tower event -> Pro tips!
🎯 Join us in the fun and participate in the different Community contest we are running to win Gold Bars and Community Badges!
👨‍👩‍👦‍👦   New to the Community? Sign up HERE in 2 seconds!