ENDED 🌰 Win 20 gold bars in a chocolate contest 🍫 ENDED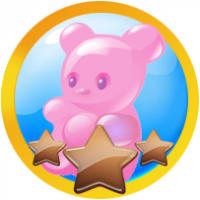 PrettyBubbles
Posts: 3,649
Superstar
.Want to join no account then register here in 2 minutes
Hi crushers 🍭🍬 I am a bit worried as I have had to leave @Elsa all alone with all our chocolate bars 🍫 Hmmm 🤔 she better not eat my share.
I AM WATCHING YOU ELSA 👀
How delicious they all look
Are you also a chocaholic. If so can you name all 12 just from a picture.
5 of you that do will receive 20 gold bars 💰 added to you're CCsaga game
You have from the 20th November to the 4th of December to participate
Good luck but I Must run now guys as my chocolate is at risk. See you soon 🙋‍♀️
Eeellsaaaa Eeellsaaa ELSA‼I hope you haven't eaten mine 😫
Game terms and conditions can be found here.
🔮 BWS3 game of the month is HERE and there is more our community contest is HERE come and join us to have fun and win gold bars 💰