❄️🔵 Let it snow challenge with Tiffi - sweet & snowy badges to claim! (finished)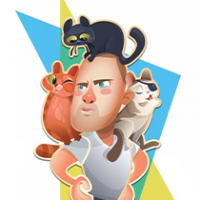 Crazy Cat Lad
Posts: 12,535
Community Manager
Welcome to the Let it snow challenge with Tiffi!
Let it snow is a snowy and sweet 5-week competition where you can collect exclusive badges.
Even if you miss the first weeks or are not able to participate every single week, don't worry, you can join or rejoin the competition at any point and still claim some badges.
How does it work?
Every week, Tuesday to Tuesday, there will be a specific quest with collecting the blue snow flake candies in the game.
You have one week to complete it and to post a screenshot of your blue snow flake candies.
All quests need to be completed during that exact week. When the next task starts the following week, the previous one will close. 
What can I win?
After completing 1, 3 and 5 of the quests you will get an exclusive Let it snow badge to your Community profile.
Where do I find the Quests?
You can find all the quests each week hyperlinked here below. Please note that you can only participate in the current week's quest.
Remember also to post your screenshot or answer on the quest page!
Good luck and if you need any help or want to chat about the competition, please feel free to comment here on this Main Page.
All level quests and screenshots for each week's quest, please post them on the quest page that you find above.
You have until Tuesday 4 January 2022 05:00 EST/ 11:00 CET to participate and post all screen shots and you'll find terms and conditions here.
🎁

Find all December events in the game HERE!
👨‍👩‍👦‍👦 New to the Community? Register HERE in just 2 seconds.