⛸️
Ice Cream Games!
An exclusive sneak peek on what's coming to the game
HERE
🗻
Temple Training - The Bonus Rounds!
An extra chance to win Gold Bars in the event
HERE
🎁❄️ Sweet Surprise Season! Delicious December events in Candy Crush Saga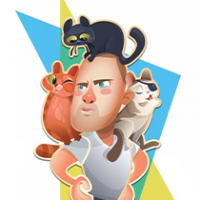 Crazy Cat Lad
Posts: 12,571
Community Manager
Winter and the festive holiday season is here!
In Candy Kingdom it will be called Sweet Surprise Season. Why? Simple. Since the game will be full of sweet surprises. Starting from 29 November and all the way to January.
Snowflake Candies
First sweet surprise will be the blue candies. All blue candies will have snowflakes. Snowy and sweet feeling while crushing!
Besides the candies and the wintery and festive feeling in the game, keep an eye on these sweet and cool events this season:
Advent Calendar
Sweet Surprises every day in your game!
Make sure to open your game to claim your sweet surprise every day. A bonus week is also waiting after the 25th, find more details and share your bonuses and which surprise was your favourite HERE.
Saga Stories - Gingerbread Chaos
Join Mr Toffee, Nutcracker and Tiffi to get all the gingerbread cookies in order in Candy Kingdom. 
Follow the chaotic story on your Saga map and claim sweet surprises on your way!
Tree Topper
Climb the Holiday tree of gingerbread and get a sweet surprise for every time you  level up. Be careful though, if you wake up the Bubblegum Troll, he'll get furious! So take it easy and be mindful when climbing. Find more info on how to climb the tree HERE.
Gingerbread village
Get ready to crush the blue snowflake candies and compete against other players in the sweet  gingerbread leagues.
Start in the league Olivia's Pirate Ship, then continue to Yeti's Ski Chalet, Aunt Tilde's Antiques and Ode to Troll. The last top league is Mr Toffee's Big Top. Do you think you'll make it all the way to the top league? 
Let it snow with Tiffi!
Our sweet and snowy winter challenge in Community. Collect blue snowflake candies and claim your badges HERE.
Candy Crush Elf name!
Find your Elf name in Candy Kingdom and get the chance to win Gold Bars and Unlimited Color Bombs. Head over to our Community contest HERE.
All events are running between 29 November 2021 and 9 January 2022!
What sweet surprises are your favourites? 
Till which league in Gingerbread Village League did you manage to get to?
And lastly, how many gingerbread cookies did you eat this season while playing?
👨‍👩‍👦‍👦 New to the Community? Register HERE in just 2 seconds.