🏅Badges! Join the Weekly Race
HERE
and share your scrapbook
HERE
🍩 Friends Battle Royale! Vote now
HERE
🌈New in the Community? Say Hi
HERE
🦝 Rachel's back in town! Tell the studio what you think
HERE
💰 Guess which is our sweet raccoon's art style and win Gold
HERE
🌴 It's ON! Join our
Weekend Challenge HERE
Tiffi loves her friends - meet the Bubblegum Troll!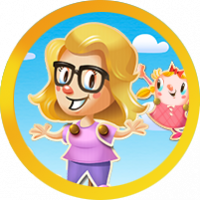 Elsa
Posts: 31,496
Community Hub Moderator
Over the Easter Bunny Hills, lurking under the Bubblegum Bridge, you will find the naughty Bubblegum Troll!
Bubblegum Troll is one of the more prevalent characters in Candy Crush Saga. No Candy Kingdom would be complete without a cheeky troublesome troll. He has a light pinkish colour body with a gold or grey pin for his arms. He resembles a stretched piece of bubblegum as he has a stretched rear area.  He's a cheeky little guy and always looking to try and sabotage Tiffi's helpful deeds for her friends.  Though he's mischievous, he's quite kind really, so the people of Candy Kingdom love him. Sometimes he can be useful in tricky situations.  

He hates being out in the rain. He knows everything about the Candy Kingdom. In his first three appearances in Dreamworld, he is never seen without a sailor hat on his head. However, he wears Casey's hat in Starlight Station. In Bubblegum Hill, he appears as a king.  He is the first character in an episode who does not have a problem. He became the character of the year in 2016.  He also appeared collecting candies, which is similar to Dexter's Delight.

He loves playing pranks on everyone. However, he is still a well-loved character in the Kingdom, as he is only intending to cause amusement.    His first and main appearance is in the 7th episode, Bubblegum Bridge. He hides under the Bubblegum Bridge. When Tiffi approaches, he jumps out and threatens to take her candy. Tiffi must complete his challenges - which she does. After completing level 95, however, the Bubblegum Troll takes her bag of candy anyway. Fortunately, Tiffi is able to escape and continue over the bridge, while the Bubblegum Troll goes back into hiding.
By the time Tiffi visits the 9th episode, Peppermint Palace, he has already wrecked the palace and left it in ruins, rendering Genie Jellybeanie completely upset. The Troll is never seen in person in this episode, but Genie Jellybeanie, while frowning, has a thought bubble that contains the Troll's image. Genie Jellybeanie even alludes to him in his lament, "I wish that terrible troll never showed up." Tiffi eventually fixes the Palace and foils the Bubblegum Troll's plans.  

He is seen again at the end of the 15th episode, Sweet Surprise.  He is the last one to appear and makes his grand entry by popping out of the top of the cake. It is odd that he would take part in the celebration since he is considered an antagonist, albeit obviously having a friendlier side. But what is in the evil side, is the appearance of him. He appears above the cake, therefore destroying a part of the cake. Olivia shouts "Get him!" and he goes to hiding again. 

In the 26th episode, Pudding Pagoda, Tiffi encounters Gumzilla (aka Bubblegum Troll) terrorising Neko and the pagoda itself. After completing level 380, Gumzilla reverts to his original Troll form and has a pretzel katana fight with Tiffi, who wins. He swears his revenge and disappears, once again evading permanent defeat. 

He strikes again in the 31st episode, Butterscotch Boulders, blocking the railroad tracks of Casey, the train driver, with a bunch of chocolate and leaving. Tiffi licks a lollipop and leaves the train driver to sleep a whole a day. The next day, the train driver discovers that the sun has melted the chocolate, but the Bubblegum Troll had already escaped before Tiffi got there.

He strikes once more in the 39th episode, Biscuit Bungalow. He encases Pete's bungalow with a huge bubble of pink bubblegum, whilst Pete is out of the house. Tiffi is able to undo his work with the help of Misty, who with her horn, pops the bubblegum bubble. However, the Bubblegum Troll has already escaped before she gets there.

He strikes again in the 50th episode, Marshmallow Mountains. He sticks Jimmy, the goat, on a bridge with some Bubblegum. Tiffi puts on a Viking hat, and rams the goat with it, freeing him from the bubblegum. However, the Bubblegum Troll goes back into hiding.

In Candy Crush Soda Saga, he makes a few appearances.  He is a secretary in the soda library.  He performs on stage in the Soda Theatre. 

He sings about Kimmy in Tasty Theatre, and look at his epic stage outfit.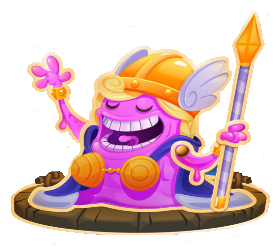 He hosts the Candy Crush show in the Chewy Show episode.  He becomes a witch in the Wacky Woods episode and brings a poison apple to the princess while she is making a bear-cream cake.  He also appears as the king of soda land in the Bubblegum Hill event.
He does not make an appearance in Candy Crush Jelly Saga.  

He was recently introduced to Candy Crush Friends Saga.  He first appears as a quest and the studio wants your feedback on this so you can check it out here. 

Match 12 yellow candies and he will chew the bubblegum and then he farts/spits 2 explosive Bubble Blast Candies onto the board.  Swap the Bubble Blast Candy with any moveable object on the board to set it off.  When set off it will explode hitting from each corner.  Bounces through Licorice swirls.  

And that's it for now!  King Chewy and I hope that you enjoyed his trip down memory lane.
_____________________________________________________________________________________
Would you like to learn read some trivia about Tiffi and her friends?
Click on any of the names below to learn more about them.
Tiffi     Jean-Luc    Odus     Bubblegum Troll    Misty    Olivia    Mr. Yeti    Red Rabbit    Dachs
_____________________________________________________________________________________


🌈_________________________________ 🌈_____________________________ 🌈
Leave a Comment