🏅Badges! Join the Weekly Race
HERE
and share your scrapbook
HERE
🍩 Friends Battle Royale! Vote now
HERE
🌈New in the Community? Say Hi
HERE
🦝 Rachel's back in town! Tell the studio what you think
HERE
💰 Guess which is our sweet raccoon's art style and win Gold
HERE
🌴 It's ON! Join our
Weekend Challenge HERE
Meet Tiffi! Bet you didn't know these facts!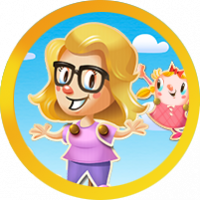 Elsa
Posts: 31,496
Community Hub Moderator
Tiffi, short for Toffette, is an eight-year-old girl with blonde hair and blue eyes. Her full name is Toffette Toffee.  She is a controlled puppet with golden nails (brads) connecting her arms to her shoulders.  She has blonde hair and likes to have her hair tied in pigtails.  She has a red bow on top of her head. She wears a pink dress and her shoulders are pinned. She also wears pink shoes.
She has a barrentina-shaped face, which is also flexible. Her chin is as wide as her neck. She has gigantic eyes, stretching from her forehead to her cheeks. She has no eyebrows or eyelashes though, so maybe that is the reason why she has a lot of tears welling up from her eyes. Her nose is also big, just situated between her eyes. She has rosy cheeks and becomes excited when she smiles. Her mouth is not small though, so when she is happy, her mouth stretches from her chin to her forehead. Her sad face is also exaggerated using her mouth. Her teeth are large, even larger than her cheeks. Her neck is so small that we cannot see it using our naked eyes.  She is very short, so short that it would take six of her to equal the height of Mr. Toffee. She is chubby, and her pink legs are short too.
Sweet little Tiffi was found in a candy bag and was brought up by Mr. Toffee in his Candy Store.  He is her adoptive father.  She eats 500 Swedish Fish a day because it is good for her joints! Her birthday was revealed to be 23 January, on the official Candy Crush Saga Facebook page. Her zodiac sign is Aquarius. As she is the main character, she is also seen in a Wikia video. She is left-handed.   She has an underwater twin, Milly, in the episode of both worlds, Savory Shores and Coral Corral.
Her personality is too simple, sometimes naïve - when you fail the level, she feels surprised first, then cries very sorrowfully (unless the player buys boosters as s/he is about to fail); also, when you pass the level, she becomes so ecstatic. Hopefully, little is heard about memes on her. She also becomes very sad when her candies are being stolen, as shown in the episode of Bubblegum Bridge. She is helpful because she helps fixing the problem, of which, a character faced in almost every episode. Overall, she is very cheerful when she can help people.
She vacuums in a maid's uniform. She finds the ingredients levels as her favourite level type. She  loves to explore so she sets off through the Chocolate Mountains to begin her magical, candylicious adventures.  Along her journey she stops to help some quirky characters and meets some even kookier animals, not to mention the mischievous Bubblegum Troll who always keeps her on her toes!
She helps various mascots she meets throughout the course of the game by asking them what is wrong at the start of each episode, then finding a way to help them at the end.   When you complete a level, Tiffi appears jolly. If completed with three stars, she's even happier (her expression is the same on mobile with it resembling the expression of earning three stars on web, though), however, she cries if you fail a level.

Are you aware that Candy Crush Saga and Candy Crush Soda Saga both have storylines that follow each other?  In Candy Crush Saga, she sends messages in a bottle to recount her adventures. 
But who is she sending them too? 

In Candy Crush Soda Saga, the story starts when her bottle messages do not come as usual.   Her sister, Kimmy sets out to find her and meets up with several characters along the way.  Tiffi makes one appearance in Candy Crush Soda.  She appears in the Soda Splash episode.  Tiffi, being the eager little girl that she is, breaks the robot's tie off. 
This is where Kimmy meets up with her and they are both excited to see each other.
In Candy Crush Friends Saga, Tiffi is six years old. Tiffi is the mischievous ball of enthusiasm who accidentally fell into the Candy Kingdom and brought chaos into Mr. Toffee's orderly world.
Although she eventually wants to get home, she's happy to stick around for adventure, exploration, and, of course, Candy!   Tiffi can create Swedish Fish out of thin air!  Just match some red Candies and she and her fishies will help you, cuz' that's what friends do!
When you collect 10 red candies, Tiffi will pour a bucket of water with three fish, then change three random red candies to red fish candies. If there are not enough red candies on the board, Tiffi will change random colored candies to red fish candies.

She just gets so excited every time you collect 10 red candies!  Look at her go! 

_____________________________________________________________________________________
Would you like to learn read some trivia about Tiffi and her friends?
Click on any of the names below to learn more about them.
Tiffi     Jean-Luc    Odus     Bubblegum Troll    Misty    Olivia    Mr. Yeti    Red Rabbit    Dachs
_____________________________________________________________________________________
Please feel free to read all my stories here

🌈_________________________________ 🌈_____________________________ 🌈
Leave a Comment