🏅Badges! Join the Weekly Race
HERE
and share your scrapbook
HERE
🍩 Friends Battle Royale! Vote now
HERE
🌈New in the Community? Say Hi
HERE
🦝 Rachel's back in town! Tell the studio what you think
HERE
💰 Guess which is our sweet raccoon's art style and win Gold
HERE
📝 📚 A list of all stories I have written so far 📚 📝
candycrushinit
Posts: 12,265
Legend
Hello everyone!
This is going to be a list I am going to be working on as I write more stories in the future. @Elsa will help me edit this list since I am not a Superstar yet. I am currently going over the list of ideas in my head for a future story. You all love reading my stories, so you can check them out again here!
1: The Valentine Date (released February 9, 2020, edited February 21, 2020) - Nutcracker has sudden feelings for Tiffi and he's not sure on how to ask her out. Can he convince her to become his one and only true love forever?
2: Friends' Summer Vacation (released on August 1, 2020) - Tiffi and Nutcracker wanted to spend some time at the beach with their friends. But can it all go out as planned?
3: A Christmas Night Together (released on December 24, 2020) - Tiffi and Mr. Toffee plan on throwing a Christmas party at home and inviting every one of Tiffi's friends. Tiffi really wants to see Santa Claus and know everything about him. Will this wish come true for her or will Christmas be the same without getting to meet him?
Well, that's all for now. More stories are coming soon, don't you worry about that!
A young soul with a passion for Candy Crush. May all sweet things be with you in life. 🍭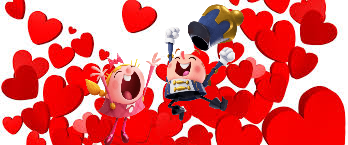 ❤️ CCFS expert. Ask me anything! ❤️

Highest RC Win Streak: 15
Highest Candy Necklace Win Streak: 35

Face masks now MANDATORY in some areas. Please wear them and stay safe.
Stay informed.
😷❤️🦋
Leave a Comment