🔧
Temporary connectivity issues
More details
HERE
👻Celebrate the
spookiest Halloween
with your Friends! Badges and more for you
HERE
and
HERE!
💬Share your
feedback!
Direct line to the Studio!
🍭Celebrate
Candy Day
with us! Win your own Friends portrait
HERE
and some Gold
HERE!
Surprise Birthday Cake!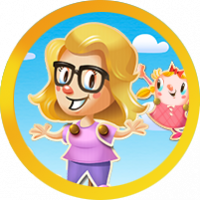 Elsa
Posts: 34,215
Community Hub Moderator
Tiffi is all excited. She can't wait for them to see the surprise that she has for them. Jenni brings the presents into the room. 
QueenMia goes over to the cake, knife in hand. Suddenly she is hearing strange sounds coming from inside the cake. What is going on? She turns to Tiffi and wants to know if there is something inside the cake. Instead of answering QueenMia, Tiffi gets the plates and starts to hand them over so that the slices can be placed on each plate. 
Just as QueenMia is ready to put the knife into the cake, the top of the cake pops off. Surprise! QueenMia looks at Xarly and the rest of them with a smile on her face. Tiffi and her surprises! 
"What's going on?" she questions. She didn't know that Rachel had gotten together with Rancid again. To find out about the budding romance between the two of them, please read their story here.  
When Rancid heard that there was going to be a first-year Anniversary for the community, he knew that he wanted to bring Rachel! He was so upset when she shook hands with him after their first date. He wasn't going to give up on her.  
Tiffi has one more surprise for them. She looks at her watch and it is now 16:00 CET. Time is really going fast.  She wants to gather everyone together for this last surprise.  
What other surprises can she have? 
Let's continue - Memory Book
Start at the beginning - A rumor is spreading in the community
This discussion has been closed.