💆‍♀️
Mindful Journey!
All about Candy Crush January events
HERE
🗻
Temple Training - The Bonus Rounds!
An extra chance to win Gold Bars in the event
HERE
💈 Color Cannons - new feature in Candy Crush Saga!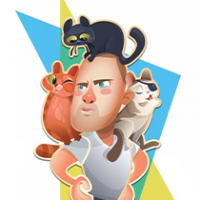 Crazy Cat Lad
Posts: 12,489
Community Manager
👨‍👩‍👦‍👦 New to the Community? Register here in just 2 seconds.
New cannons coming to the game!
You surely are familiar with the Candy Cannons in the game, the "mixing candy machines" that sometimes can be found on the top of the game board and drop down special candies.
Now we'll update these with a colorful feature:
Say hello to the Color Cannons!
The Color Cannons will spawn regular candies, but only specific colours will come down from these. Which colours it is will be shown in the Color Cannon.
For example, the level here above. The Color Cannons to the left will only spawn yellow and blue candies. The Color Cannons to the right only green and orange candies while the middle ones will spawn purple and red candies.
The Color Cannons can also mix regular candies with special candies and blockers. All candies they spawn will be shown in the Cannon, so remember to check these when entering a level to get the correct strategy.
The Color Cannons will be available from level 9441 in the game which will be released on W10 on 19 May 2021. Mobile devices and Facebook will be updated with the Color Cannon levels on 2 June 2021.