🏆️
Candy Cup!
Find out everything you need to know
HERE!
🥳
Want to be a part of Candy Crush Saga's 10th anniversary?
Preview of what's coming soon
More Info HERE!
 🎫 Player Card - New Candy feature in the making!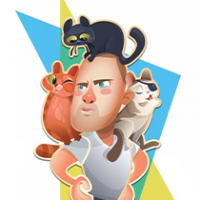 Crazy Cat Lad
Posts: 14,131
Community Manager
We have some exciting news to share with you!
Right now we are working on some player cards for the game. A pop up where you can find some sweet facts about your fellow players.
Don't worry, no personal information will be shared nor displayed anywhere in the game. 
How will this work?
When tapping the avatar of a player in the game, a player card will then pop up.
We need your help!
What information or features would you like to see from other players in your game, when you tap their avatar? 
Which of the following would you like to have on the player cards? 
Stats - The current level, scores, achievements… 
Region - Where in the world the player is located.
Online status - When the player was online previously.
Send a friend request - Connect with the player by adding them to your friends list.
Other -  Do you have a sweet idea that would be a cool feature in the player cards? Please let us know and post your ideas here!
Let us know what info you would like to be featured and any thoughts and feedback on this!
Psst… 
We are also looking at the two ideas to have a Chat or Message function and Sending gifts between players, to see if they would be possible to add to the player cards as well. 
👨‍👩‍👦‍👦 New to the Community? Register HERE in just 2 seconds.