⛔️
Temporary server and connection issue!
Find more details and help
HERE
🐟️🐈️ Fishing Tournament with Licorise - Collect badges and win Gold Bars!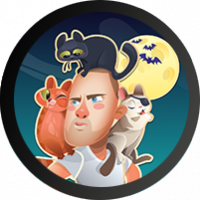 Crazy Cat Lad
Posts: 11,516
Community Manager
👨‍👩‍👦‍👦 New to the Community? Register here in just 2 seconds.
Welcome to the Fishing Tournament with Licorise!
Fishing Tournament with Licorise is a 12-week competition where you can collect exclusive badges and win Gold Bars.
Even if you miss the first weeks or are not able to participate every single week, don't worry, you can join or rejoin the competition at any point and still progress and win.
How does it work?
Every week, Tuesday to Tuesday, there will be a specific level in the game to play.
You have one week to complete it and to post a screenshot of your level score.
All levels need to be completed during that exact week. When the next task starts the following week, the previous one will close. 
What can I win?
By completing the levels every week, you will get 1-5 points depending on your score and climb on Licorise's scratch rope here below.
You will get 1 point per star on your score, i.e. 1 star gives 1 point, 2 stars 2 points and 3 stars 3 points. Sugar Stars will give 5 points!
For every milestone of collected points you reach, you will get a badge. There are up to six badges to collect if you reach over 50 points!
On top of that, each week, three players who completed that week's level will also win 20 Gold Bars to their game!
Where do I find the Quests?
You can find all the quests and which level to play each week hyperlinked here below. Please note that you can only participate in the current week's quest.k.
Remember also to post your screenshot or answer on the quest page!
Quest Week 8 - Starting 2 November
Quest Week 9 - Starting 9 November
Quest Week 10 - Starting 16 November
Quest Week 11 - Starting 23 November
Quest Week 12 - Starting 30 November
Good luck and if you need any help or want to chat about the tournament, please feel free to comment here on this Tournament Main Page.
All level scores and screenshots for each week's quest, please post them on the quest page that you find above.
You have until Tuesday 7 December 05:00 EST/ 11:00 CET to participate and post all screen shots and you'll find terms and conditions here.